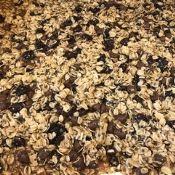 Stay-at-Home Nut-Free Granola
Although trying to bake with the limited items you have in your house plus having an allergy can be challenging, with a little creativity, you find you can make yummy things. Not only was this recipe easy, it was delicious. I had it for breakfast, and my family enjoyed it as a snack. It also goes great with vanilla yogurt or your favorite yogurt alternative. Recipe by TAG Member Amelia Elliot. Ingredient include gluten-free oats, chia seeds (may be substituted with other seeds), semisweet chocolate chips, olive oil, pure maple syrup, and mixed dried mangoes and craisins. Click here to view the full recipe.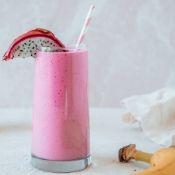 Strawberry Banana Smoothie with a Dragon Fruit Garnish
Refresh with a classic summer Smoothie that is top-8 free and packed with protein. Create a tropical vacation within your own home with a smoothie that will keep you energized until your next meal. Ingredients include frozen strawberries, a frozen banana, a bottle of Strawberry Banana OWYN , and sunflower seed butter. Click here to view the full recipe.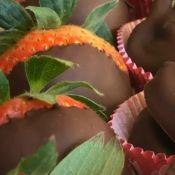 Chocolate Covered Strawberries
Chocolate covered strawberries are a perfect snack to bring some bite-sized happiness into your day. Perfect to make to end a romantic meal, help pass an afternoon, or decorate and cook with kids. 
Ingredients include fresh whole strawberries, allergy-friendly chocolate chips, and grapeseed oil, other oil, or shortening. Click here to view the full recipe.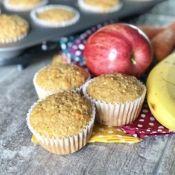 Eat Your Fruits & Veggies Kid! Muffins
These moist muffins are not only Top 9 Free, but they are also delicious and enjoyed by all ages as snacks or breakfast food. Food Allergy P.I. created this recipe to help her oldest child that suffers from food allergy, and is also very picky, so that he would eat his fruits and vegetables. Ingredients include quinoa, water, all-purpose flour or gluten free measure for measure flour, sugar, baking powder, cinnamon, salt, banana, unsweetened applesauce, grapeseed or vegetable oil, zucchini, and carrot. Click here to view the full recipe.