Feasting With FARE: Russian Borscht
Chef Leslie Durso is taking us to Russia for Borscht, a classic Eastern European soup (made top-9 free of course)!
Ingredients
3 cups grated red beets
2 tbsp. olive oil 
1 medium onion, chopped
1 red bell pepper, chopped
4 cloves of garlic, chopped
2 carrots, peeled and sliced
3 medium potatoes, peeled and sliced
10 cups vegetable broth
2 tbsp. tomato paste
1 half head of cabbage, shredded
1 can white beans with liquid
1/2 lemon, juiced
salt and pepper to taste 
4 tbsp. + 2 tbsp. chopped fresh dill divided
Cream
1 russet potato, peeled and diced
1 parsnip, peeled and sliced
1 tbsp. nutritional yeast 
3 tbsp. chopped fresh dill
salt and pepper to taste
Instructions
Thinly slice the carrots and potatoes and place in a large bowl of water.
In a large pot, sauté the grated beets in olive oil for 3 minutes. Add in the onion, bell pepper, and garlic. Sauté another few minutes until the onions get soft. 
Drain the carrots and potatoes and add them to the pot along with 10 cups of vegetable broth and tomato paste. 
Bring to a simmer and cook until the carrots begin to get soft. 
Add in the cabbage and cook for 5 more minutes.
When everything is tender, add the beans, lemon, salt, pepper, and fresh dill. 
Serve with cream and chopped dill.
Cream
Boil the potato and parsnip in a medium pot of boiling water until the potato falls apart.
Strain and put in blender. Also add the nutritional yeast, salt, pepper, and ½ cup water.
Puree until smooth. Add water 1 tbsp. at a time if needed. Stir in the chopped dill.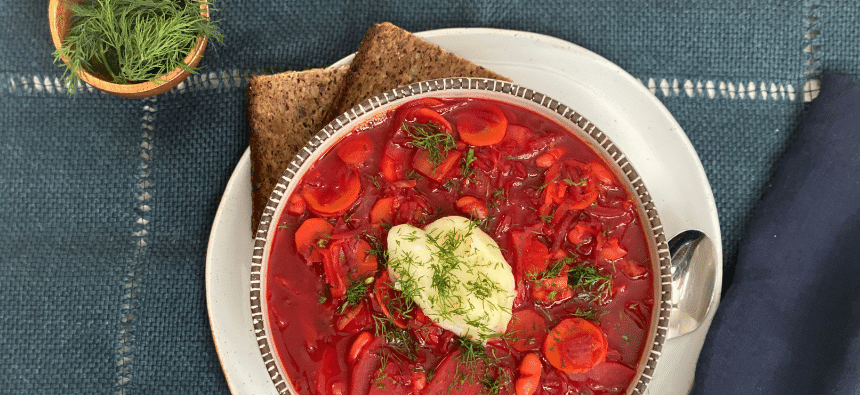 Around the World in 80 Plates with Leslie Durso
More Recipes