Feasting With FARE: Austrian Mushroom Goulash with Potato Dumplings
Leslie Durso is back and she's teaming up with Rashad Jennings for a delicious goulash recipe free from the top 9 food allergies.
Serves: 4
Ingredients
Goulash
1 onion, thinly sliced
2 TBSP olive oil, divided
1 TBSP soy free, dairy free butter
portobello mushrooms, cut into chunks
1/4 tsp dried marjoram
1/4 tsp caraway seeds
1 TBSP tomato paste
2 TBSP smoked paprika
pinch of cayenne pepper
2 bay leaves
1 cup water
Dumplings
3 large golden potatoes
1-2 TBSP soy free, dairy free butter
2-3 TBSP non-dairy milk
1/4 cup wheat free flour
2 TBSP nutritional yeast
1 TBSP fresh chopped parsley
1/2 tsp sea salt
Fresh chives for garnish
Instructions
Goulash
In a large pan, add the olive oil, butter and onions on medium. Heat until the onions start to sizzle and reduce down to low and let caramelize for 30-60 minutes, stirring occasionally. You want the onions to develop a rich brown color.
In a separate pan, sauté the mushrooms in a TBSP of olive oil until just soft. About 6 minutes. Add in the spices, caramelized onions, and 1/2-1 cup of water. Let softly simmer for 10 minutes.
Dumplings
Peel and dice the potatoes and boil until fork tender.
Drain and place in a large mixing bowl.
Add in the rest of the ingredients and smash with a potato masher.
Preheat your oven to 375 degrees.
Using an ice cream scoop or large spoon, place dollops of potato mixture over the goulash. Place the whole pan in the oven and bake for 20 minutes until the dumplings are golden. Remove from the oven and garnish with fresh chopped chives.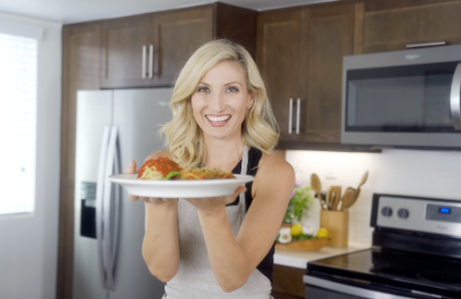 Around the World in 80 Plates with Leslie Durso
In Around the World in 80 Plates, host Leslie Durso recreates top-9 free dishes she puts on menus in resorts in the world's hottest destinations!