Feasting With FARE: Onion Bhaji by Simon Majumdar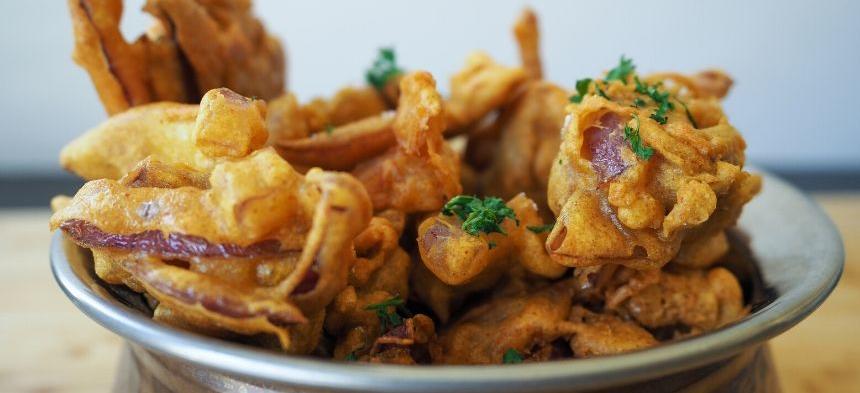 Hi everybody.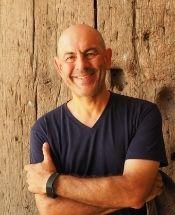 It is a genuine privilege to be asked to contribute a regular post for this community. Like so many of you, there are some everyday foods to which I might have a bad reaction if I eat them. In my case, these are oysters and coffee (and perhaps we will talk about those in more detail in another post). And, like so many of you, I have to build avoidance of them in my daily life.
This can be tough enough at the best of times, but when you combine that with the way I make my living -- as a professional food critic, cook, food and travel writer, and judge on television food competition shows such as Guy's Grocery Games or Cutthroat Kitchen -- it can become almost a full time task. From informing the culinary departments on shows like Iron Chef America of my allergies so they can remove those items from the pantry, to checking that a BBQ restaurant does not use coffee in its brisket rub, it can become a potential minefield. 
However, I consider myself to be pretty fortunate. Compared to many, my food allergies are very limited. I am British by birth so would far rather drink tea than coffee, and oysters are pretty easy to avoid. Also, my travels, which so far have taken me to over 80 countries around the world, have given me the opportunity to find alternative food preparation techniques and ingredients that I use regularly at home. In future posts, I plan to share them with those whose food allergies are far more severe than my own. In doing so, I hope that time spent in your kitchen continues to bring fun and joy for you and your family. 
Along the way, I shall also be offering new takes on seasonal dishes and sharing some of my favorites from my travels. I shall also be answering questions. And, while you should always look to the advice of your physician or other qualified health care provider, hopefully I can offer up some culinary inspiration.
And, to begin, let me share one of my favorite dishes from my family heritage, a wonderful and simple snack dish that is a constant request whenever I cook an Indian-themed dinner party. Bon appétit!
ONION BHAJI RECIPE 
Serves: 4
Ingredients 
2 Large White or Red Onion (Sliced Thinly)
2 Cups of Gram flour (also called Chickpea or Garbanzo Flour, which is available at any good market)
1 Tsp Chili Powder
¼ Tsp Turmeric
¼ Tsp Salt
¼ Tsp Sugar
¾ Cup Water
Vegetable Oil for Deep Frying
Instructions
Sift the flour into a mixing bowl.
Add the dry spices, salt and sugar to the flour and combine well.
Add the water gradually, stirring to make a thick batter similar to heavy cream in consistency. If the batter is too thick add more water, if it is too thin, sift in a little more flour until you get the desired result.
Add the onion slices to the batter & cover the bowl with plastic wrap.
Chill for one hour. To allow the flavors to come together.
Heat vegetable oil in a deep sided pan. To check the temperature is correct for deep frying, drizzle a little of the batter into the oil. If it sizzles and rises to the surface, it is ready for cooking.
Take one handful of the batter covered onion and drop them into the oil, taking care as they will begin to spit as they cook.
Do not add too many onions to the oil at one time as this will reduce the temperature of the oil and make the end result soggy.
Cook each bhaji until it is golden brown, then remove and drain on kitchen towel.
Sprinkle with salt and serve with slices of lime or lemon.
---
Disclaimer: This post from Simon Majumdar is for informational purposes only and is neither intended as medical advice, diagnosis or treatment nor as substitute for the medical advice, diagnosis or treatment of a physician or other qualified health provider. Please consult your physician or other qualified health care provider for medical advice, diagnosis or treatment.