Feasting With FARE: Coq au Vin
Coq au Vin translated to "cockerel in wine," and is a lovely rustic French dish. This recipe is by Chef Simon Majumdar.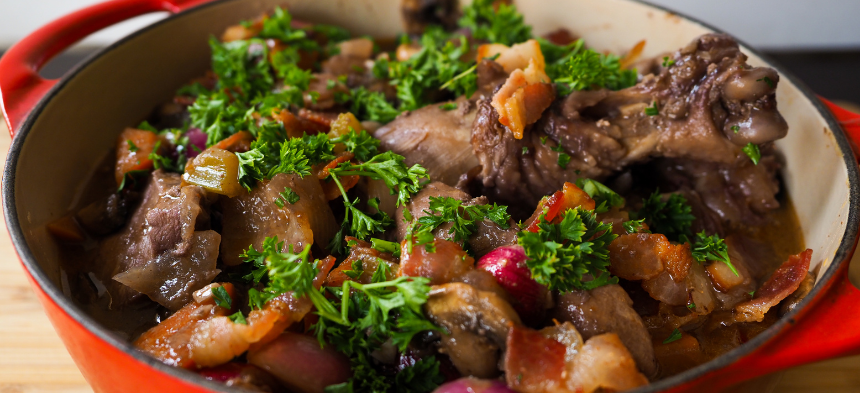 I am a huge fan of rustic French cooking. It is a cuisine that is based on dishes that are prepared seasonally with ingredients local to the region and served family-style to be enjoyed by large groups of people. Some of these French classics seem to have gone out of style recently. Perhaps this is because they do take time to prepare and have a process that demands attention to detail. Not something we are so good at in these hectic days. However, if you do dedicate time to them, the results can be unbeatable.
This month's recipe is a perfect example. Coq au Vin, literally "cockerel in wine," is a classic dish from the Burgundy region of France. It was traditionally prepared using a cockerel or male chicken that was past its best. As a French chef once told me, "a cockerel that was no longer quick enough to run away from you." Because it was an older bird, the meat was tougher. So, this animal was not suitable for roasting. Instead, it would be marinaded overnight in local Burgundy wines made with the Pinot Noir grape, along with vegetables and herbs from the kitchen garden. Once the meat was simmered in its marinade and chicken stock, it would be garnished with mushrooms, onions, and local bacon before being served with bread, mashed potatoes, or a simple salad.
Now, you may find it hard to find a worn-out old cockerel in your local supermarket. However, if you use a boiling chicken or any large chicken, you will still get a spectacular result.
Give it a try for a true taste of a French classic.
Coq au Vin
Ingredients
1 Large Whole Chicken (Broken down into 8 pieces – or you can use pre-cut chicken leg/thigh quarters)
3 Carrots (Peeled and Diced)
3 Stalks of Celery (Peeled and Diced)
1 Large White Onion (Peeled and Diced)
1 Head Garlic (Sliced Horizontally)
½ Lemon
4 Stalks Fresh Thyme
4 Stalks Fresh Rosemary
1 Bottle Pinot Noir
6 Strips Smoked Bacon (Cut into Thin Batons)
1 Cup White Mushrooms (Sliced)
1 Cup Pearl Onions (Can be Frozen)
2 Tablespoons Olive Oil (For Cooking)
1 Teaspoon Tomato Paste
1 Cup Chicken Stock
1 Tablespoon Cornstarch (Mixed with 2-3 Tablespoons Water to Form a Paste)
Kosher Salt (To Taste)
Freshly Ground Black Pepper (To Taste)
¼ Cup Fresh Parsley
Instructions
Season your chicken pieces (be it a broken-down chicken or leg/thigh quarters) with salt and pepper on both sides.
Place in a large non-reactive bowl with the carrots, celery, onion, garlic, lemon half and the rosemary & thyme. You may wrap the herbs in cheesecloth, if you would like, to make them easier to manage.
Pour over the contents of the bottle of wine and stir so that all of the chicken is covered in your marinade.
Seal the bowl with plastic wrap and place in the fridge for 24 hours.
When ready to prepare the dish, remove the chicken from the marinade and dry with a paper towel.
Strain and retain the liquid from the marinade. Set the liquid marinade aside.
Remove the marinated carrots, celery and onion and set aside in a separate bowl.
Peel and mince the marinated garlic.
Keep the marinated herbs and lemon to one side. You will use them while cooking.
In a deep sided frying pan or large Dutch oven, fry the bacon strips until crisp. Remove the bacon from the pan and set aside.
In the fat released by the bacon, fry the mushrooms until golden. Remove the mushrooms from the pan and set aside.
In the same pan, fry the pearl onions until golden. Remove the pearl onions from the pan and set aside.
Add the 2 tablespoons of olive oil to the same pan and sear off the chicken pieces until golden on both sides. Remove the chicken pieces from the pan and set aside.
Add the marinated carrots, onion, and celery to the pan. Season with salt and pepper and cook on a medium heat for 3-4 minutes.
Add the minced garlic and cook for 2-3 minutes.
Add the tomato paste and cook for 2-3 minutes.
Return the chicken to the pan. Skin side up.
Add the reserved wine marinade and the chicken stock.
Add back in the lemon half and the herbs.
Simmer the chicken in the stock until it has reached an internal temperature of 165 degrees Fahrenheit and the liquid has reduced by half.
Remove the herbs and lemon.
Stir in the cornstarch to thicken the sauce a little.
Add the mushrooms, onions and bacon to the pan and combine well.
Check for seasoning, and add more salt and pepper to taste.
Garnish with chopped parsley.
---
Photo Credit: Sybil Villanueva
Disclaimer: This post from Simon Majumdar is for informational purposes only and is neither intended as medical advice, diagnosis, or treatment nor as substitute for the medical advice, diagnosis or treatment of a physician or other qualified health provider. Please consult your physician or other qualified health care provider for medical advice, diagnosis, or treatment.