Feasting With FARE: Peri Peri Chicken
Take a trip to Mozambique with this tasty recipe by Simon Majumdar!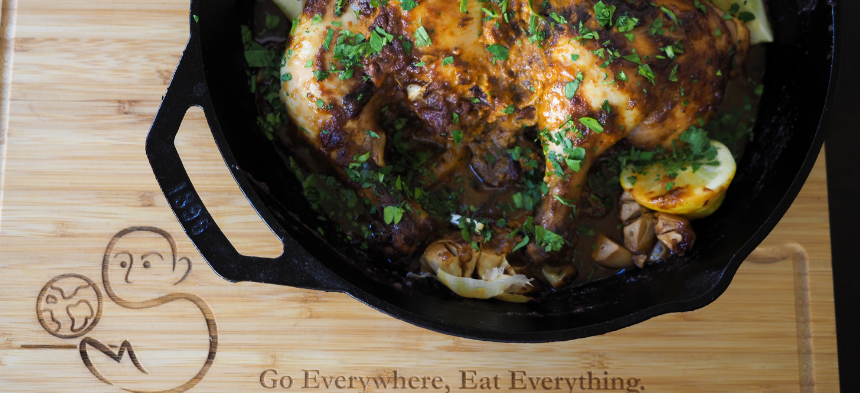 As we move into March, and as the pandemic continues to rage, I have to admit that I am beginning to struggle with the total absence of international travel. Usually, by this time in the year, my wife and I would have hoped to have visited one or two of the countries on our bucket list. Then, I would have returned to our apartment in Los Angeles with dozens – probably hundreds, if truth be told – of images of the food we have eaten, and recipes to try and recreate at home.
Right now, of course, that is impossible. So, to try and bolster my spirits in these trying times, I am going through some of my notes from the many countries I am lucky enough to have visited. And, I have decided to make the dishes associated with them at home.
This month, I wanted to share one with you from a visit to South Africa, which is the origin of a chain of spiced roast chicken restaurants called Nando's that have become hugely popular in Europe. Indeed, the people in my homeland, Great Britain, have become somewhat obsessed with those spiced roast chicken dishes. Ask anyone from London if they fancy a "cheeky Nando's" and you will see a tear come to their eye.
The dish itself, Peri Peri Chicken, actually originated in Mozambique, I am told. The words "Peri Peri" is translated from "pepper pepper" in Swahili. The peppers, like most in Africa, arrived with the Portuguese, who had encountered them during their colonialization of the Americas. The "Peri Peri" pepper, if you can find them, is definitely a spice to seek out. It sits on the Scoville rating – the measurement of the heat of chilis – at about 175,000, which makes it hot, for sure, but not something that anyone with a fondness for a bit of spice will mind.
These peppers can be hard to find, so I have made substitutions in this dish in my attempt to recreate that most famous chicken dish. The Brits love it with a plate of chips – which are what Americans call fries – but I like it with a salad and steamed rice too.
Spatchcock Peri Peri Chicken
Serves: About 4
Ingredients
For Roasting the Chicken
1 Whole Chicken
1 Large Onion (Sliced)
1 Lemon (Sliced)
1 Teaspoon Kosher Salt
1 Teaspoon Ground Black Pepper
¼ Cup Olive Oil
For the Dry Spice Mix (You may not need all of this, but keep extra in an airtight jar to use on steaks or pork chops)
1 Teaspoon Salt
1 Teaspoon Ground White Pepper
1 Teaspoon Cayenne Pepper
1 Teaspoon Paprika
1 Teaspoon Dried Thyme
1 Teaspoon Dried Oregano
1 Teaspoon Garlic Powder
1 Teaspoon White Sugar
For the Wet Marinade
10 Red Thai Chili (If you can find the Peri Peri, then do substitute them)
5 Cloves Fresh Garlic (Peeled)
1 Whole Red Bell Pepper (De-seeded)
¼ Cup Cilantro Leaf
¼ Cup Parsley
¼ Cup Red Wine Vinegar
½ Lemon (Juice and Zest)
1 Teaspoon Kosher Salt
1 Teaspoon Ground Black Pepper
Instructions
Spatchcock the chicken – i.e., remove the back bone and press down the chicken from the breast so it is butterflied.
Place the chicken on a large plate or baking tray and rub with the dry spice mix.
Place the chicken in the refrigerator for at least an hour.
After one hour, place the chicken in a large non-reactive bowl or place in a resealable plastic bag.
Pour in the wet marinade and massage the marinade all over the chicken.
When the chicken has been fully covered in marinade, cover the bowl with plastic cling wrap or, if using a resealable plastic bag, seal the plastic bag.
I like to leave this to marinade in the refrigerator overnight. But, if you are short of time, you will get a great result after 2-3 hours.
Layer a large roasting pan with the sliced onion and lemons.
Sprinkle the onions and lemons with salt and pepper, and dribble with olive oil.
Place the chicken – breast side up – on top of the onions and lemon.
Brush the chicken with any excess marinade so it has a good covering.
Pre-heat an oven to 375 degrees Fahrenheit.
Place the chicken in the oven and baste with the cooking juices every 10-15 minutes.
Cook the chicken until golden and the internal temperature is 165 degrees Fahrenheit.
Once cooked, allow to rest under foil for 5-10 minutes.
---
Photo Credit: Sybil Villanueva
Disclaimer: This post from Simon Majumdar is for informational purposes only and is neither intended as medical advice, diagnosis, or treatment nor as substitute for the medical advice, diagnosis or treatment of a physician or other qualified health provider. Please consult your physician or other qualified health care provider for medical advice, diagnosis, or treatment.