Feasting With FARE: Sumac Grilled Lamb Chops With Minted Chickpeas
Simon Majumdar is here to teach you all about lamb and how it creates exquisite dishes!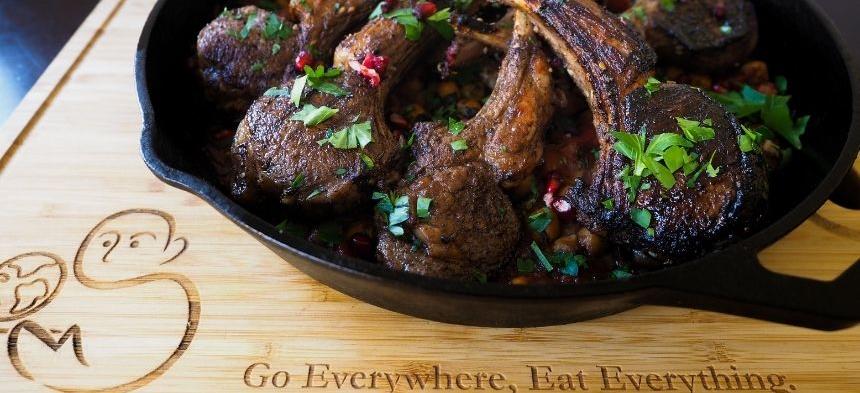 One of the most interesting food observations I have made in my over ten years of living in the United States is just how far down the list lamb sits when people are choosing their meat-based proteins. It is particularly strange to me as, growing up in Britain, lamb was (and still is, according to some quick research I did before writing this feature) one of the most popular of meats. And I still have many fond memories of meals with lamb as the centerpiece, be it a large leg cut roasted to enjoy during a traditional Sunday family lunch, sizzling chops straight from the grill to be served with a sharp mint sauce, or a shoulder joint slow cooked with herbs and garlic until the meat fell from the bone.
In part, this ambivalence towards lamb may well go back to the preferences of the first European settlers in the American colonies who preferred meats such as beef, pork, and chicken. And, in part, it may come from the fact that, with a few notable exceptions, such as Colorado, most regions of the United States were not ideal for farming sheep, and what lamb they did produce was often derided by Americans as unpleasantly "gamey." This meant that people who did like lamb often only had expensive imports from Australia and New Zealand to satisfy their needs at a price that not many could afford.
Fortunately, over the last few years, this is beginning to change. There is now truly excellent lamb being produced here in America. Moreover, with later waves of immigration from countries where lamb is very firmly on the menu, such as those in South Asia and the middle East, lamb is becoming more apparent on restaurant menus and supermarket shelves. This makes me rather happy.
So, as a completely unofficial ambassador for this underrated protein, I am sharing this lamb rack-based recipe inspired by the food of Lebanon. It is one of the countries that I have yet to visit but is very high on my bucket list. Eating this combination of grilled lamb chops with pomegranates, chickpeas and sumac spice makes me even more determined to head there as soon as I am able.
I am sure it is delicious enough to make a lamb lover out of the most sheepish. . . er, see what I did there?
Sumac Grilled Lamb Chops With Minted Chickpeas
Ingredients
For the Lamb Chops:
2 x 1.5-lb. Lamb Racks
1 Teaspoon Kosher Salt
1 Teaspoon Freshly Ground Black Pepper
2 Teaspoons Sumac Spice
4 Tablespoons Extra Virgin Olive Oil
2 Cloves Garlic (Minced)
1/8 Cup Pomegranate Molasses
For the Chickpeas:
2 Tablespoons Extra Virgin Olive Oil
1 Large White Onion (Sliced)
Kosher Salt (To Taste)
Freshly Ground Black Pepper (To Taste)
3 Cloves Garlic (Minced)
1 Teaspoon Sumac
1 Tablespoon Pomegranate Molasses
1 x 14-oz Can Chopped Tomatoes (and its juices)
2 x 14-oz Cans Chickpeas (Drained and rinsed)
¼ Cup Fresh Mint (Finely Chopped)
For Garnish:
½ Lemon (Zest and Juice)
¼ Cup Fresh Italian Parsley (Finely Chopped)
¼ Cup Pomegranate Seeds
Instructions
For the Lamb Chops:
In a large bowl, combine the salt, pepper, sumac, olive oil, minced garlic, and pomegranate molasses.
Add the lamb chops and massage the spice mixture into the chops well, so they are completely coated.
Cover the bowl with plastic wrap and place in the refrigerator for at least one hour.
Bring them out to grill at least fifteen minutes before you are ready to cook them so they can come back up to room temperature.
Grill the lamb chops for approximately 2-3 minutes per side (if you would like a slightly pink center) and then allow to rest for 5 minutes under a loose covering of foil.
For the Chickpeas:
Add 2 tablespoons of olive oil to a wide frying pan.
Add the onions, season with salt and pepper and cook for 2-3 minutes.
Add the garlic and cook for 2 minutes.
Add the sumac and cook for 1-2 minutes.
Add the pomegranate molasses and combine well.
Add the chopped tomatoes and juices and cook for 1-2 minutes.
Add the chickpeas and allow to cook for 2-3 minutes.
Remove from the heat and add the fresh mint.
Check for seasoning, and add more salt and pepper to taste.
To Finish the Dish:
Lay the chickpeas on a serving platter.
Place the lamb chops on top of the chickpeas.
Sprinkle with fresh lemon juice and the zest.
Sprinkle with fresh parsley.
Top with pomegranate seeds.
---
Photo Credit: Sybil Villanueva
Disclaimer: This post from Simon Majumdar is for informational purposes only and is neither intended as medical advice, diagnosis or treatment nor as substitute for the medical advice, diagnosis or treatment of a physician or other qualified health provider. Please consult your physician or other qualified health care provider for medical advice, diagnosis or treatment.