Feasting With FARE: Curried Roasted Butternut Squash Soup With Spinach
Get warm with a bowl of this delicious top-9 free soup by Chef Simon Majumdar.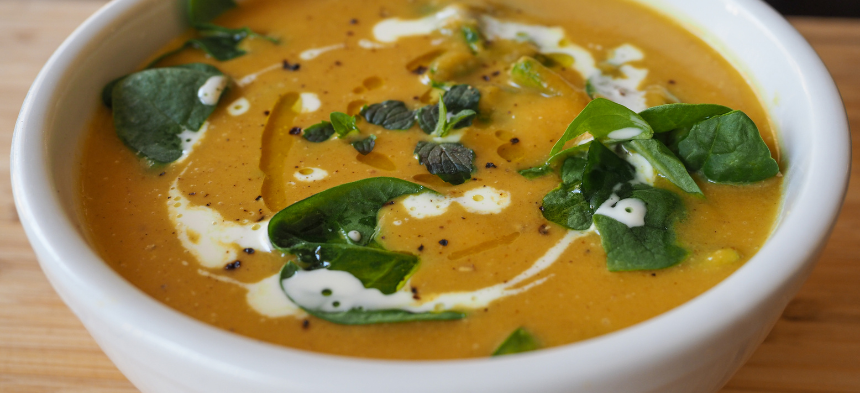 As someone who was brought up in the United Kingdom, one of the elements I have had to become used to with my move to Los Angeles is the almost terminally dull consistency of the weather. While there is definitely something to be said for constant cloudless blue skies and weather that circles 80 degrees Fahrenheit for most of the year, there is a part of me that longs for the bright arrival of Spring, the cold snap of Winter days, and most of all, the blustery days of Fall (or Autumn, as I still insist on calling it).
Odd though it might seem to those who crave the sunlight, there is something magical about wrapping up in a long warm coat, putting on stout shoes and stomping through piles of freshly fallen leaves in the nearest park or on a country walk.
I also miss the food of Fall. Ingredients -- such as beets, cabbages, parsnips, and pumpkins -- whose arrival in our family's pantry, were as good a guide to the time of year as any calendar. I particularly loved the arrival of squashes that my mother would make into soups or would roast in large chunks to accompany a large Sunday roast of pork or beef, or would even coat in breadcrumbs and shallow fry to turn into fritters.
Often, she would pair the squashes with spices to represent my father's Indian heritage. The smell of cumin, coriander and chili would be a regular welcome as I came into our home after a cold walk from my nearby school.
This month's recipe replicates some of those deeply savory, warming and delicious soups from my youth, and is one that I hope you and your family will enjoy.
Curried Roasted Butternut Squash Soup With Spinach
Serves: about 4-6
Ingredients
1 Large or 2 Medium Butternut Squash
2 Cloves Garlic (Minced)
1-inch Fresh Ginger (Minced)
1 Serrano Chili (Deseeded and Minced)
½ Cup Oat Cream
1 Teaspoon Ground Cumin
1 Teaspoon Ground Coriander
1 Teaspoon Ground Red Chili
1 Teaspoon Ground Turmeric
1 White Onion (Diced)
Black Pepper (To Taste)
Kosher Salt (To Taste)
½ Cup Olive Oil
4 Cups Vegetable Stock
2 Cups Fresh Baby Spinach
Instructions
Cut the butternut squash in half lengthwise.
Remove all the seeds and, using a sharp knife, make deep diagonal slashes into the flesh of the squash.
Fill the hole of the squash where the seeds were about 2/3 of the way up with olive oil and drizzle some olive oil over the rest of the surface of the squash.
Place a small amount of garlic in the hole.
Sprinkle the surface of the squash with salt and pepper.
Place the squash on a baking tray and roast for 30 minutes at 350 degrees Fahrenheit or until the flesh is soft and the surface slightly charred.
Remove the squash from the oven and allow to cool.
Scoop the flesh from the shells of the squash. (Note: you can also mash this up to make a great puree to serve with a protein dish.)
In a deep saucepan, add two tablespoons of olive oil over a gentle heat.
Add the diced onion. Cook for two minutes.
Add the garlic and cook for two minutes.
Add in the minced ginger and cook for two minutes.
Add the minced serrano chili.
Add in the dry spices (turmeric, chili, cumin and coriander). Combine well and cook for two minutes.
Add in the stock.
Add in the flesh from the squash and combine well with the mixture.
Cook gently for 5-7 Minutes.
Blend the soup in small batches in a blender and pass through a sieve to get a smooth texture.
Return to the saucepan and add the oat cream.
Combine well, simmer gently, and check for seasoning. (I usually find it needs a touch more salt and black pepper at this point.)
Place a small amount of baby spinach at the bottom of an individual serving bowl
Ladle on top of the spinach the amount of soup you would like to serve.
Drizzle the top of each bowl with a little olive oil, more of the oat cream and a crack of black pepper.
---
Photo Credit: Sybil Villanueva
Disclaimer: This post from Simon Majumdar is for informational purposes only and is neither intended as medical advice, diagnosis or treatment nor a substitute for the medical advice, diagnosis or treatment of a physician or other qualified health provider. Please consult your physician or other qualified health care provider for medical advice, diagnosis or treatment.