Feasting With FARE: Red Thai Curry
We're off to Thailand with this delicious and nutritious top 9 free red curry dish!
We're off to Thailand with this delicious and nutritious top 9 free red curry dish!
Ingredients
1 tablespoon Avocado oil
1 cup diced yellow onion
4 cloves of garlic, chopped
1 piece of ginger, minced
5 Yukon gold potatoes, dice into 1 inch pieces
2 carrots, sliced on the diagonal
1 red pepper, julienned
1 yellow pepper, julienned
⅛ tsp sea salt
2 tablespoon Thai red curry paste
3 cups plain unsweetened oat milk
2 tablespoon tapioca powder
2 tablespoon filtered water
1 ½ cups spinach
¼ cup Thai basil leaves
¼ cup roughly chopped cilantro
1 lime, sliced in wedges
Instructions
In a large skillet over medium heat, add oil, onions, ginger, and garlic and sauté 2-3 minutes until onions begin to soften.
Add the potatoes and 1/4 cup water and place a lid over the skillet. Let the veggies steam for about 5 minutes or until the water has evaporated and the potatoes are just fork-tender.
Uncover and add in the carrots and bell peppers and sauté for 5 minutes.
Stir in the Thai red curry paste. When it's thoroughly mixed in, add in the oat milk. Simmer over medium heat or lower to maintain a soft simmer till the veggies are soft, but still have a firmness, about 5 minutes.
While the curry is simmering. Make a slurry by whisking the tapioca powder and water together. Add it into the curry and stir well. The sauce should start thickening very quickly.
Remove from the heat and add in the spinach and stir in.
Serve with brown rice and top with the fresh basil, cilantro, and a squeeze of lime.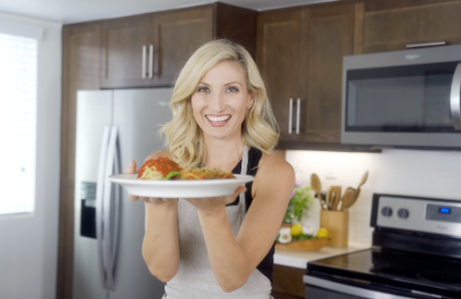 Around the World in 80 Plates with Leslie Durso
In Around the World in 80 Plates, host Leslie Durso recreates top-9 free dishes she puts on menus in resorts in the world's hottest destinations!