Feasting With FARE: Top 9 Free Grape Leaves
We're off to Greece for a delicious taste of the country
We're off to Greece for a delicious taste of the country. Enjoy these Greek Grape Leaves, free from wheat, peanut, tree nut, milk, egg, fish, shell fish, soy, and sesame!
Ingredients
1 jar of Orlando California Grape Leaves, drained with boiling water, drain, pour hot water over them again and let soak for about 30 minutes, rinse, lay flat
¼ cup + 3 TBSP olive oil
2 large onions, chopped fine
1 cup minced curly leaf parsley
½ cup fresh minced dill
¼ cup fresh minced mint
¼ cup dried currants or golden raisins
½ cup sunflower seeds
1 ½ cup long grain white rice
½ cup + 1 cup vegetable broth
1 tablespoon salt
juice of 2 lemons, divided equally
Instructions
Heat olive oil in pan and sauté onions until the edges get soft. Add in the herbs, currants, and sunflower seedsand cook for 5 minutes.
Add in the rice, broth, salt, juice of 1 lemon, and another 3 tbsp. olive oil. Sauté 15 minutes. You are not fully cooking the rice in this step.
To assemble - line a large pot with grape leaves.
Prep your grape leaves by trimming the stem.
Lay the leaf flat on a cutting board, vein side up. Place a heaping TBSP rice mixture in the center of the leaf. Fold up the bottom over the mixture, then the sides and roll into a nice tight bundle.
Pack the stuffed grape leaves in the lined pot and repeat for all the leaves.
In the pot, pour 1 cup of vegetable broth, 1/4 cup olive oil, juice of 1 lemon and enough boiling water to just cover the grape leaves.
Place the pot over medium heat and gently simmer for 40-45 minutes or until tender.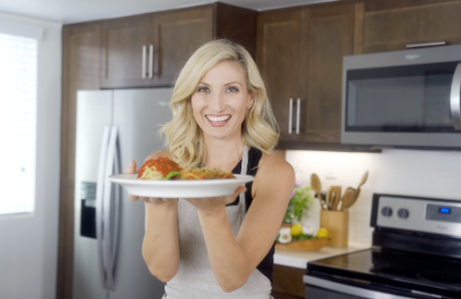 Around the World in 80 Plates with Leslie Durso
In Around the World in 80 Plates, host Leslie Durso recreates top-9 free dishes she puts on menus in resorts in the world's hottest destinations!