Feasting with FARE: Socca with Crispy Chickpeas, Arugula & Bacon Salad
A delicious dish by Simon Majumdar that is top-9 free and celebrates the amazing versatility of chickpeas.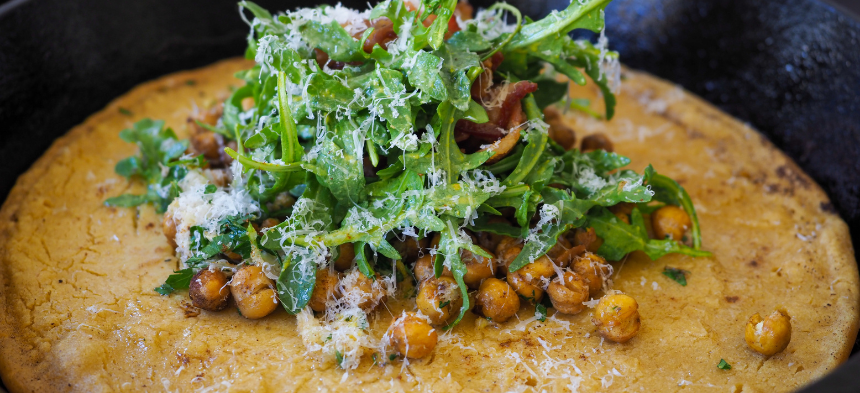 This recipe is a combination of two preparations of one of my favorite ingredients, chickpeas. There is never an occasion when I don't have chickpeas on hand in my pantry. I keep both tinned and dried versions, as I think they give a different texture when prepared and are perfect for certain kinds of dishes. Tinned chickpeas can be whizzed into a hummus with lots of olive oil, tahini paste and cumin. While dried chickpeas that have been soaked overnight and then boiled for an hour or so make the perfect addition to the Indian vegetarian dish, Chana Masala. Oh, and don't forget that the liquid in a can of chickpeas, known as "aquafaba," can be whipped to create a substitute for mayonnaise or a vegan binder for cakes and meringues. 
The first part of this recipe consists of a warm flat bread or pancake made from chickpea flour, also called garbanzo bean flour, if you are seeking it out in the supermarket. 
I first encountered this dish in a market in Nice, in the South of France, where they called it, "Socca," Fans of dishes from the Italian city of Genoa, however, may also have seen it sold there where they call it, "Farinata." Whatever it is called, it is quick and easy to make, and perfect for anyone whose diet is gluten-free. It can be eaten on its own or used as a base, as I did here, for toppings.
It is wonderful with a topping of slow roasted bell peppers with olives and tomatoes. It is also really delicious when topped with a creamy salad of tuna and frisee lettuce. However, on this occasion, I chose a salad of peppery arugula leaves, mixed with bacon (optional if you want to keep it vegetarian), and a mixture of crispy fried chickpeas tossed with parsley, Parmesan and a little lemon juice and zest. This use of chickpeas is one I first sampled at a terrific restaurant in Phoenix, AZ, where they would serve the legumes as a snack before the meal. Even though the rest of the meal was always great, these chickpeas were so addictively good we would often return just so we could have them with a drink.
If your allergens allow, you can also top this salad with a poached egg or even a piece of baked salmon for a delicious meal. But it works just as well on its own.
Do give it a try.
Socca with Crispy Chickpeas, Arugula & Bacon Salad Recipe
Ingredients
For the Socca:
1 ½ Cups Garbanzo Bean Flour
1 ½ Cups Water
1 Pinch Paprika
½ Teaspoon Kosher Salt
½ Teaspoon Freshly Ground Black Pepper
3 Tablespoons Olive Oil for the Batter
2 Tablespoons Olive Oil for the Pan (You can also use the fat released by the bacon when you cook it for extra flavor)
For the Crispy Chickpeas:
1 Can Chickpeas (Drained, Rinsed in Cold Water, Dried on Kitchen Towel)
1 Pinch Paprika
¼ Cup Olive Oil
1 Pinch Kosher Salt
1 Pinch Freshly Ground Black Pepper
¼ Cup Grated Parmesan (substitute, or do not use if you have a dairy allergy)*
½ Lemon (Juice and Zest)
½ Cup Fresh Italian Parsley (Roughly Chopped)
*Click here for substitution options
For the Salad:
2 Cups Arugula Leaves
4 Strips Smoked Bacon (Cut into Batons and Cooked)
1 Teaspoon Dijon Mustard
1 Tablespoon White Wine Vinegar
3 Tablespoon Olive Oil
1 Pinch Kosher Salt
1 Pinch Freshly Ground Black Pepper
Instructions
For the Socca:
Combine all of the ingredients (except 2 tablespoons of olive oil) in a bowl and whisk to smooth paste.
Pre-heat an oven to 400 degrees Fahrenheit.
Place a 12-inch cast iron skillet in the oven as it heats or on the stove until it is smoking hot.
Add the 2 remaining tablespoons of olive oil to the pan and rotate until the entire surface of the pan is coated. Use more oil if you need to.
Add the chickpea batter and rotate until all of the bottom of the pan is covered with batter.
Place in the oven and cook for 7-10 minutes. The surface should brown a little but be careful it does not burn.
For the Crispy Chickpeas:
Toss the chickpeas in olive oil, salt, pepper and paprika.
I like to cook my chickpeas in an air fryer for 10 to 12 minutes at 350 degrees Fahrenheit.  If you don't have an air fryer, then you can shallow fry them in vegetable oil until they are crisp.
Once crisp, toss the chickpeas in grated Parmesan, parsley, and lemon zest.
Add the lemon juice just before serving.
For the Salad:
Combine the mustard, olive oil, white wine vinegar, salt and pepper in a mason jar or sealable jar.
Shake to emulsify the dressing.
Toss the dressing through the arugula leaves.
Add the pre-cooked bacon.
To Compose the Dish:
Serve this dish in the skillet in which the Socca was cooked.
Top the Socca with a good amount of the crispy chickpeas.
Place the arugula leaf salad on top of that.
Sprinkle with a pinch of paprika and, grate a little more Parmesan over the whole dish.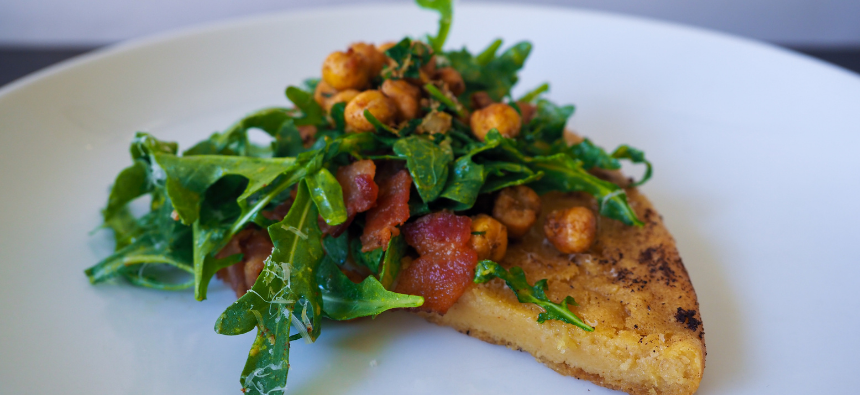 ---
Photo Credit: Sybil Villanueva
Disclaimer: This post from Simon Majumdar is for informational purposes only and is neither intended as medical advice, diagnosis, or treatment nor as substitute for the medical advice, diagnosis or treatment of a physician or other qualified health provider. Please consult your physician or other qualified health care provider for medical advice, diagnosis, or treatment.