Feasting With FARE: Chicken Thighs With Kale and Cabbage
An absolutely delicious and nutritious top-9 free recipe by Chef Simon Majumdar.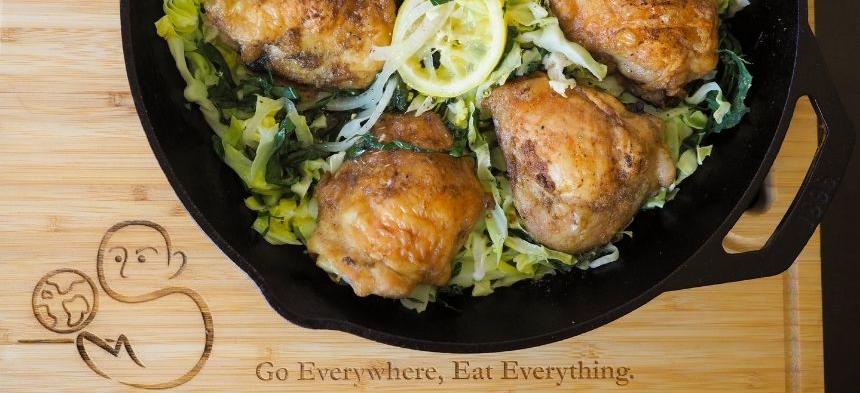 My aim in creating recipes for you in these posts is to offer dishes that I know are house-tested –my wife is my fairest but toughest food critic – for their deliciousness factor. I also aim to create dishes filled with all the best ingredients that are filled with flavor.
At the same time, I also like to offer ingredients that might often get overlooked when you walk through the produce section of your favorite supermarket. That's a shame as some of these ingredients, like the kale and cabbage below, are laden with vitamins and are really delicious when prepared properly. This is even more important as we head into winter, when colder weather and the threat of flus and colds make it even more important for us to make sure that our bodies are well nourished.
This chicken dish, I hope, will meet these aims. It is hard to beat tasting the crunch of chicken skin (if you choose to leave it on) or the juiciness of the chicken against the tang of lemon and wine vinegar, plus the kale and cabbage mixture that requires a bite.
And, what's more, it's a top-nine allergen-free dish, without substitutions.
Enjoy.
Chicken Thighs With Kale and Cabbage
(Serves About 4)
Ingredients
6 Chicken Thighs (Bone In; You Can Cook Skin On or Off)
1 Teaspoon Garlic Powder
1 Teaspoon Onion Powder
1 Large White Onion (Sliced Thinly)
3 Cloves Garlic (Minced Finely)
1 Large Lemon (Sliced)
3 Cups Kale (Roughly Chopped)
½ Napa Cabbage (Roughly Chopped)
¼ Cup Water
Kosher Salt
Freshly Ground Black Pepper
3 Tablespoons Red Wine Vinegar
¼ Cup Good Olive Oil (it doesn't have to be extra virgin olive oil)
Instructions
Place the chicken thighs in a bowl.
Season with salt, pepper, garlic powder and onion powder.
Add ½ of the olive oil and massage the seasonings into the skin.
Cover with plastic wrap and place in the refrigerator for 30 minutes.
When ready to cook, place the chicken on a foil lined baking tray and cook at 375 degrees Fahrenheit for 30-35 minutes (to make sure you have an internal chicken temperature of 165 degrees Fahrenheit).
While the chicken is cooking, bring a large skillet to a medium heat on the stove.
Add the olive oil and bring to a medium heat.
Add the onions. Season with salt and pepper, and cook until translucent.
Add the garlic and cook for 2-3 minutes.
Layer the garlic and onions with the slices of lemon.
Combine the cabbage and kale, and place over the onion mixture.
Add a little more salt and pepper, if needed.
Add the water.
Place a lid on the skillet and cook on a gentle heat until the cabbage and kale begin to wilt.
Remove the lid and stir everything in the pot to combine.
When the chicken has reached an internal temperature of 165 degrees Fahrenheit, lay them on top of the cabbage and kale mixture.
Sprinkle with a little red wine vinegar.
Serve with wild rice.
---
Photo Credit: Sybil Villanueva
Disclaimer: This post from Simon Majumdar is for informational purposes only and is neither intended as medical advice, diagnosis or treatment nor as substitute for the medical advice, diagnosis or treatment of a physician or other qualified health provider. Please consult your physician or other qualified health care provider for medical advice, diagnosis or treatment.