Feasting With FARE: Channa Masala
A top-9 free dish made by Simon Majumdar using one of his favorite ingredients...chickpeas!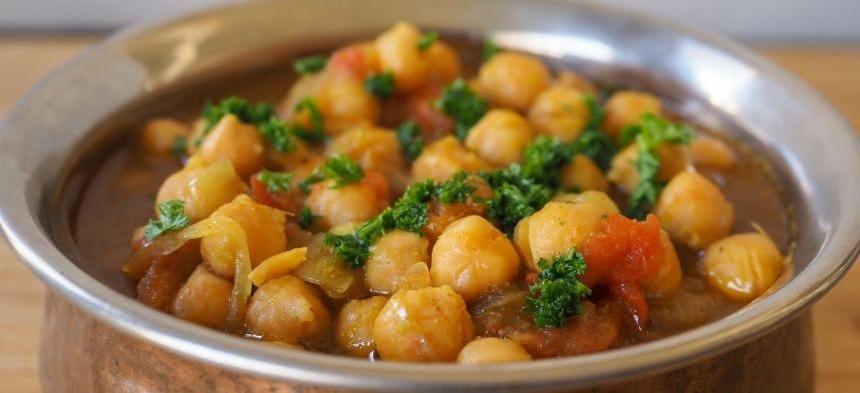 As a professional cook, I face a constant battle to keep those for whom I prepare food – be it client, family or friends – away from ingredients to which many may have an allergic reaction. I am sure you too face the same problem. That is why I always seek out alternatives to all the top-9 allergens and seek ingredients to which relatively few people have a reaction and on which I can base meals. Today, I want to concentrate on one of my very favorite ingredients: chickpeas.
Chickpeas have been in the human diet for nearly 10,000 years. People from the Middle East first cultivated them. Unsurprisingly, you can still find some truly amazing dishes in the region using this ancient legume. Ancient Romans transported them all over Europe and into Asia, where you will find, as with the recipe today, they are hugely popular in the cuisines of India, Sri Lanka, Pakistan and Bangladesh.
Chickpeas are also hugely nutritious. They are low in fat, but rich in dietary fiber. They contain a considerable amount of proteins and are also a good source of iron. On top of which, chickpeas are hugely versatile. Once dried, they can be ground down to make a flour, which is something I always have in stock in my kitchen. Indeed, in an earlier post for FARE, I used chickpea flour in my recipe for onion bhaji, a spiced onion fritter.
Whole chickpeas can be mashed and rolled into balls to make Israeli Falafel or Greek Pitaroudia. They can be whipped with olive oil to make a delicious hummus. They can also be mixed with steamed rice or with salad vegetables to make a complete meal.
I always have dried chickpeas at home, which I can soak overnight to use the next day. However, the real joy of chickpeas is that the canned versions are often very good, and can save a great deal of effort in the kitchen. Just make sure you rinse them off thoroughly in cold water before using them as the liquid in which they are stored is often rather salt heavy.
Today's recipe of Channa Masala is a popular one throughout India. It brings together the gently cooked legumes with a terrific combination of spices that is perfect served with steamed rice, yogurt, and a simple salad of tomatoes and cucumbers for a perfect vegetarian meal.
Channa Masala
(Serves about 4)
Ingredients
2 Cans Chickpeas (drained and rinsed)
1 Red or Yellow Onion (sliced thinly)
1 Inch Fresh Ginger (pureed)
3 Cloves Garlic (pureed)
3 Serrano Green Chili (de-seeded and pureed)
1 Tsp Ground Cumin
1 Tsp Ground Coriander
1 Tsp Turmeric
1 Tsp Red Chili Powder
1 Tsp Salt
1 Tsp Sugar
3 Large Tomatoes (de-seeded and finely chopped)
1 Cup Water or Vegetable Stock
½ Lemon (Juice)
½ Cup Cilantro Leaf (finely chopped)
Vegetable oil for cooking
Instructions
Bring the vegetable oil to heat in a large saucepan.
Add the onions and cook until golden brown.
Add the ginger and cook for 1 minute.
Add the garlic and cook for 1 minute.
Add the Serrano chili and cook for 1 minute.
Add the dry spices, salt and sugar and combine well. If the spices begin to stick, add a tablespoon of water.
Add the chopped tomatoes. Cover the pan and cook for 5 minutes or until the tomatoes have broken down.
Add the vegetable stock and simmer 8-10 minutes until the sauce reduces to a thick consistency.
Add the chickpeas and the chopped cilantro leaf (reserving some for garnish).
Simmer for 3-5 minutes.
Add the lemon juice and serve garnished with the remaining cilantro leaf.
---
Photo Credit: Sybil Villanueva
Disclaimer: This post from Simon Majumdar is for informational purposes only and is neither intended as medical advice, diagnosis or treatment nor as substitute for the medical advice, diagnosis or treatment of a physician or other qualified health provider. Please consult your physician or other qualified health care provider for medical advice, diagnosis or treatment.