Feasting With FARE: Vegetable Biryani
For all of the self-proclaimed rice-aholics, this recipe by Simon Majumdar going to knock your socks off.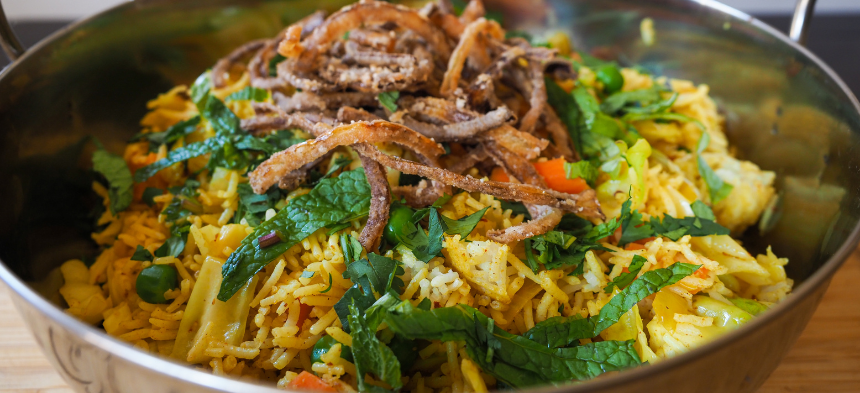 I have to hold my hand up and say that I am a rice-aholic.
I love rice dishes of all kinds. Barely a week will pass without at least one meal, usually more than one, if I am being honest, where rice does not play a part. I am very fortunate that my wife, hailing from Southeast Asia, is a rice fiend too, so she rarely complains if the grain is on the menu.
Rice can be a fantastic side dish to many meals. It can be simply steamed with a slow cooked Chinese-style belly pork stew flecked with garlic. It can be served as a bed for Persian Kebabs. It can also be served with scotch bonnet peppers and fish in my favorite Senegalese dish, Thieboudienne.
However, rice is also a grain that can be the very center piece of a meal on its own merits. Think of a spicy Creole jambalaya, a Valencian paella with seafood or chicken, or, of course, the classic Italian risotto, where the rice is plumped out with the constant addition of wine and hot stock.
Given my Indian heritage, my favorite rice-centric dish is a classic biryani. The Moghul invaders from Persia brought this dish to India. It soon spread to every region of the Indian subcontinent. There are now around 80 different versions that I am aware of, each with their own regional differences. Some use more spices, others less so. Different meats may be used, like mutton (usually goat) or chicken. Some versions may cook all the ingredients together from their raw state. Other versions may par cook the rice or partly cook the other ingredients, then finish them all together. However they are cooked, they are all rather wonderful.
For a slight difference, this month's recipe offers up a vegetarian version. I have used frozen carrots and peas, as well as cabbage for this version, but you can use any vegetables you like. It is also good, for example, with sweet potatoes.
The fried onions as a garnish add not just a spicy flavor but also texture.
Vegetable Biryani
Ingredients
For the Biryani
2 Cups Basmati Rice
4 Cups Boiling Salted Water
2 Bay Leaves
1 Cinnamon Stick
3 Green Cardamom
4 Cloves
White Onion (Sliced)
4 Cloves Garlic (Peeled and Pureed)
1 Inch Fresh Ginger (Peeled and Pureed)
4 Serrano Chilies (De-seeded and Pureed)
1 Teaspoon Salt
1 Teaspoon Sugar
1 Teaspoon Turmeric Powder
1 Teaspoon Ground Black Pepper
1 Teaspoon Ground Cinnamon
1 Teaspoon Red Chili Powder
1 Teaspoon Ground Cumin
1 Teaspoon Ground Coriander
½ Green Cabbage (Finely Sliced)
1 Cups Assorted Frozen Vegetables
1 Bunch Fresh Mint Leaves (Leaves Plucked from Stalks)
1 Bunch Cilantro Leaves (Leaves Plucked from Stalks)
1 Cup Vegetable Stock
3 Tablespoons Vegetable Oil or Canola Oil
For the Fried Onion
1 White Onion (Very Thinly Sliced)
2 Tablespoons Rice Flour
1 Tablespoon Corn Starch
1 Teaspoon Garam Masala
Vegetable Oil or Canola Oil (For Deep Frying)
Instructions
Prepare the fried onion:

Toss the onions in rice flour and corn starch.
Deep fry until golden.
Sprinkle with garam masala.
Set aside.

Prepare the rice:

Rinse the rice twice with cold tap or filtered water.
Cover the rice with fresh water and allow to soak for 15 minutes.
Drain the rice and decant to a pot to cook the rice.
Add boiling salted water to the rice.
Cook for 12 -15 minutes on a medium heat. You want the rice to be about 75% cooked. You can test this by biting into a grain, it should still have a bite to it.
Drain the rice and reserve.

In a large oven-proof pan with a lid, add 3 tablespoons of vegetable oil.
Bring the oil to a medium heat.
Add the bay leaves, cinnamon stick, cardamom, and cloves.
Cook for 1-2 minutes until they begin to pop.
Add the sliced white onion.
Season the onion with salt and pepper and cook for 2-3 minutes.
Add the garlic and cook for 1-2 minutes.
Add the ginger and cook for 1-2 minutes.
Add the serrano chili and cook for 1-2 minutes.
Add the salt, sugar, turmeric, black pepper, cinnamon, red chili powder, cumin, and coriander.
Cook on a gentle heat for 1-2 minutes.
Add the sliced cabbage.
Combine well and cook for 3-5 minutes.
Add the frozen vegetables and cook for 2 -3 minutes.
Decant the vegetables to a bowl ready for the next stage. But, keep the pan that you cooked them in to hold the biryani.
In the bottom of your biryani pan, place a layer of vegetables.
Top with a layer of the reserved rice.
Add a sprinkle of mint, cilantro, and the fried onions.
Repeat this layering pattern all the way until all the rice and vegetables are used up. Reserve some of the fried onions for garnish. Finish with a layer of rice.
Sprinkle the stock over the top allowing it all to seep through the dish.
Place a layer of aluminum foil and then the lid on the pot.
Place in a 325 degrees Fahrenheit oven and cook for 15-20 minutes.
When ready to serve, sprinkle the remaining fried onions, mint, and cilantro as garnish.

Photo Credit: Sybil Villanueva
Disclaimer: This post from Simon Majumdar is for informational purposes only and is neither intended as medical advice, diagnosis, or treatment nor as substitute for the medical advice, diagnosis or treatment of a physician or other qualified health provider. Please consult your physician or other qualified health care provider for medical advice, diagnosis, or treatment.