Feasting With FARE: Summer Vegetable Gratin by Simon Majumdar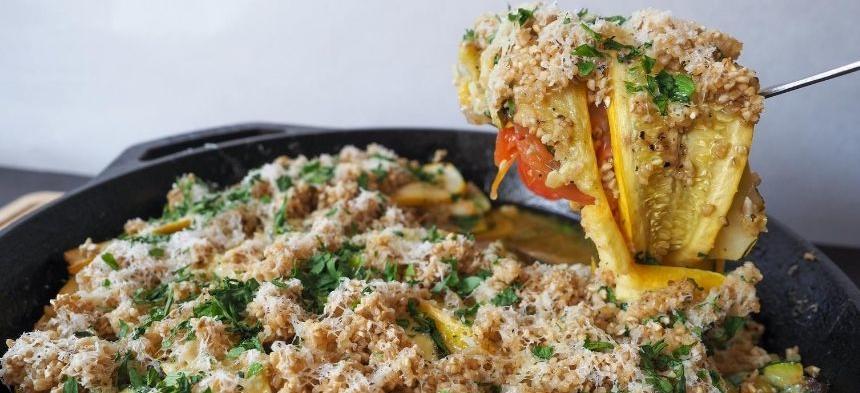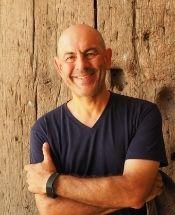 As we know, this year has been a strange one for everyone. I have judged most of the changes of the seasons by the time the sun rises during my all too essential early morning walks around my Los Angeles neighborhood and by peering through the windows of my living room. Despite the blurring of the days, one of the ways that I have tried to keep an account of where we are in the calendar is by eating as seasonally as possible.
Given that it is now possible to get just about any ingredient at any time from our local supermarkets, we forget that this was not always the way. When I was a child, my family and I expected to see certain ingredients only when they were in season. We also took a definite pleasure in eating root vegetables in the Fall, beautiful tangerines as we approached Christmas, the first asparagus at the end of April, and berries, broad beans and zucchini (or courgette, as we call them in Britain) during the summer months.
By returning to that seasonal approach, not only have I been able to bring back some happy memories from times past, but I have also been able to give myself some fun culinary challenges when creating meals at home. For the purposes of this post, I have also had to take into account potential allergens that you might have to factor in at home.
As we now head to the end of Summer, I thought this delicious Summer vegetable gratin with the sweet taste of late season vegetables, and the aroma of fresh herbs, would be a hearty main dish or a wonderful side dish to grilled fish, roasted chicken or even a simple bowl of pasta. The perfect way to see us into Fall.
Do let me know if you give it a try.
SUMMER VEGETABLE GRATIN
Serves: about 4
Ingredients
4 Beefsteak Tomatoes (Sliced ¼ in Thickness – f they are quite watery, remove the seeds)
3 Yellow Zucchini (Thinly Sliced)
3 Green Zucchini (Thinly Sliced)
4 Shallots (Finely Diced)
4 Cloves Garlic (Minced)
¼ Cup Fresh Thyme Leaves (Chopped)
¼ Cup Fresh Tarragon (Chopped)
¼ Cup Fresh Italian Parsley (Chopped)
¼ Cup Olive Oil (It does not have to be EVOO)
½ Cup Allergy Friendly Sprouted Grain Cereal (Roughly Crushed – I used Steel Cut Oats soaked in a little hot water)
¼ Cup Allergy Friendly Non-Dairy Cheese (Shredded) (click here for options)
Kosher Salt
Freshly Ground Black Pepper
Instructions
I usually make this in a handless cast iron skillet, but any baking dish will also serve the purpose.
Add a little olive oil into a small saucepan and bring to a gentle heat.
Add the shallots and cook for 2-3 minutes. You want them to soften, but not get over cooked.
Add the garlic and cook for two minutes.
Remove the shallots and garlic to a side bowl for later.
Combine the chopped thyme and tarragon in a small bowl. Set aside.
Wipe the inside surface of your skillet or baking dish with a little olive oil.
Layering the dish:

Place a layer of tomatoes on the base of your skillet.
Season with salt and pepper.
Spread a small amount of the shallots and garlic mix over the tomato layer.
Add a sprinkling of thyme and tarragon.
Layer with green zucchini, and then a layer of yellow zucchini.
Season the zucchini layer with salt and pepper.
Repeat this sequence to the top of the dish, finishing with a layer of zucchini.

Drizzle the dish with the remaining olive oil.
Cover the dish with foil (to prevent it burning) and cook in a 350 degrees Fahrenheit oven for 30-35 minutes.
While it is cooking, combine the crushed grain cereal, the shredded non-dairy cheese and the parsley to make a "breadcrumb" mixture.
Remove the skillet from the oven, discard the foil and sprinkle the top of the dish with the crumb mixture. It does not have to be a complete covering. In fact, I like it partially covered so I can see the juices bubbling through.
Place the skillet under the broiler and cook until the crumb mixture begins to brown. Be careful to watch that it does not burn.
Sprinkle with a little Kosher salt and black pepper.
Serve the dish family style at the table.
---
Photo Credit: Sybil Villanueva
Disclaimer: This post from Simon Majumdar is for informational purposes only and is neither intended as medical advice, diagnosis or treatment nor a substitute for the medical advice, diagnosis or treatment of a physician or other qualified health provider. Please consult your physician or other qualified health care provider for medical advice, diagnosis or treatment.