Feasting with FARE: Chicken Teriyaki Bowl
You'll love that this bowl from Joel and Mary Schaefer is nutritious, full of flavor and a kid-pleasing recipe that the whole family will enjoy. Chicken teriyaki is popular, yet so simple you can't go wrong.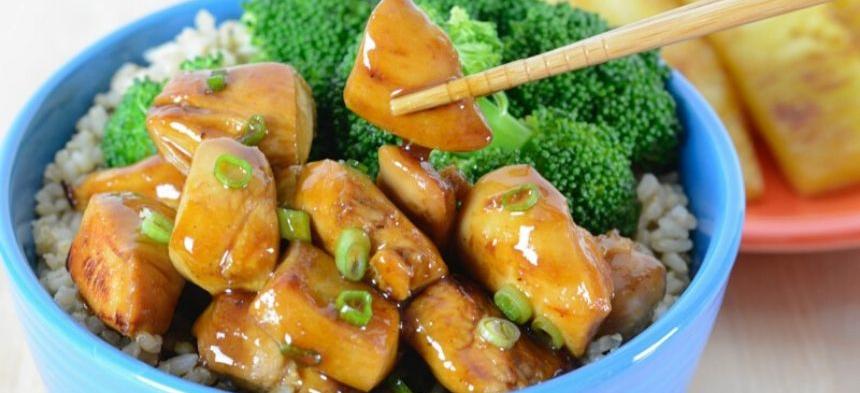 As an executive chef, Joel created a chicken teriyaki plate that was consistently the most popular menu item with students at a university in Portland, Oregon. This recipe, tweaked to be free from most* top allergens, is hands down as good as the original. 
Chicken cubes are lacquered with a sweet allergy-friendly teriyaki sauce made with coconut aminos. Dark, rich, salty and slightly sweet in flavor, coconut aminos make the perfect replacement for soy sauce and tamari. Coconut aminos have 73 percent less sodium than soy sauce and are gluten-free, soy-free, MSG-free, non-GMO and organic. 
This chicken teriyaki bowl comes with steamed broccoli, brown rice and a side of grilled pineapple wedges. Healthy and delicious fast food? Yes, it's possible!
*Coconut is a tree nut under the Food Allergen Labeling and Consumer Protection Act. See recipe notes for a coconut-free alternative to coconut aminos.

Serves: four
Ingredients
1 cup coconut aminos (see recipe notes)
1/2 cup orange juice or pineapple juice
1/4 cup water
1/4 cup mirin (see recipe notes)
1/3 cup honey
1 Tbsp minced ginger
1 Tbsp minced garlic
1-1/2 pounds boneless, skinless chicken breasts or thighs (or combination), cut into bite-sized pieces
1 Tbsp vegetable oil
2-1/4 tsp cornstarch
2-1/4 tsp water
1-1/2 cups uncooked brown rice, cooked according to package directions (see recipe notes)
3 cups broccoli florets, steamed
2 green onions, thinly sliced
grilled pineapple spears, optional
Instructions
In a medium saucepan, combine coconut aminos, orange juice, water, mirin, honey, ginger and garlic. Mix well and measure out 1 cup for marinating chicken cubes.
In a medium bowl, add reserved 1 cup marinade to chicken cubes. Toss to coat chicken. Marinate in the refrigerator for 6-8 hours, rearranging chicken every couple of hours to achieve even coverage.
Return to sauce ingredients in saucepan and bring to a boil over medium-high heat. Reduce heat to medium or medium-low and gently simmer for 10 minutes. 
Combine cornstarch and water. Whisk cornstarch slurry into sauce and cook, whisking constantly for 1-2 minutes.
Strain teriyaki sauce into a bowl. Allow to cool and refrigerate until needed.
Once you are ready to cook, drain the chicken, discarding the marinade.
Heat oil in a heavy-bottomed frying pan or wok over medium heat. Add chicken and saute until golden brown on all sides, stirring occasionally.
Pour teriyaki sauce over the chicken, then toss to combine until chicken is evenly coated.
Continue cooking, stirring frequently until the sauce reaches a simmer and chicken is cooked through.
To assemble, layer rice into 4 bowls. Top each with 1/4 of the chicken and 1/4 of the broccoli. Garnish with green onions. Serve with grilled pineapple spears, if desired.
Recipe Notes
Ocean's Halo Organic NoSoy Less Sodium Soy-free Sauce can be substituted for coconut aminos.
Rice vinegar can be substituted for mirin.
1-1/2 cups uncooked brown rice yields roughly 4-1/2 cups cooked.
Recipe by Joel & Mary Schaefer, Your Allergy Chefs. For more of their recipes, visit their website.
While FARE does not endorse products, we support and appreciate enterprises and organizations that are committed to serving the food allergy community.