Feasting With FARE: Potato Chip Chicken Tenders
Chicken tenders get a two-thumbs up as a favorite family-friendly meal. It's even better when the kids help with the breading!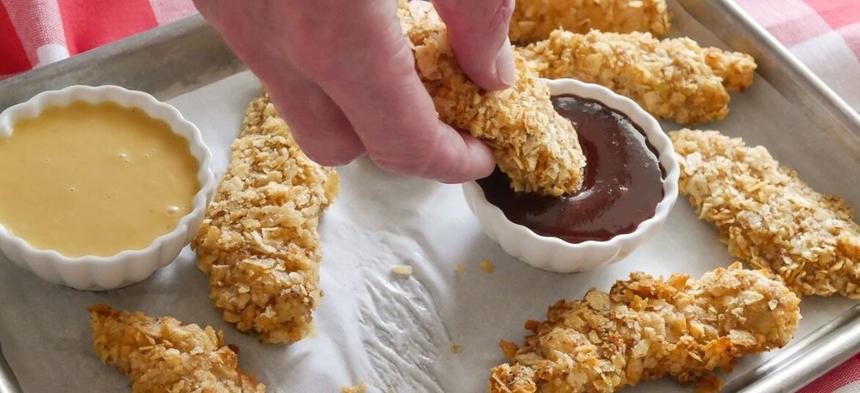 Serves: 4
Ingredients
Honey Mustard
1 cup allergy-friendly mayonnaise
3 tbsp honey
1-1/2 tbsp Dijon style mustard
1-1/2 tbsp yellow mustard
1-1/2 tsp apple cider vinegar
1/8 tsp garlic powder, optional
1/8 tsp smoked paprika, optional
1/8 tsp salt
Tenders
1 cup lukewarm water
¼ cup flaxseed meal
1 (8-ounce) bag kettle chips (see recipe notes)
1 cup garbanzo bean flour
½ tsp garlic powder
¼ tsp salt
1/8 tsp ground black pepper
1 pound boneless, skinless chicken breasts (about 2)
Instructions
For the honey mustard
In a small bowl whisk together mayonnaise, honey, mustards, vinegar, garlic powder, paprika, and salt. Cover and place in fridge.
For the tenders
preheat oven to 400°F. Line a rimmed baking sheet with parchment paper and place a wire rack on the baking sheet; set aside. The wire rack will prevent sticking and allow the chicken to bake up nice and crispy on all sides. If you don't have a wire rack, that's okay.
In a medium bowl, whisk together water and flaxseed meal. Set aside for 5-10 minutes.
Add the chips to a food processor and pulse until they are finely crumbled. Alternately, you can use a rolling pin to crush the chips while they are still in their bag. Transfer 1 cup of the chips to a shallow bowl. Reserve the remaining chips to refill the bowl as needed during breading.
In a shallow bowl, combine the garbanzo bean flour, garlic powder, salt, and pepper.
Pat the chicken breasts dry. Lay the breasts on a cutting board. Cut off any fat or tendons. Cut each breast lengthwise into strips about 1-inch thick.
Return to the flaxseed mixture and vigorously whisk until gelatinous. Transfer to a shallow dish.
To organize the breading station, start with the flour on the left. Place the flaxseed mixture in the middle, followed by the crushed potato chips on the right.
With left hand, dredge a chicken strip in seasoned flour. Using same hand, place chicken in flaxseed mixture. With right hand, completely coat chicken strip in the liquid. Lift and let excess liquid drip off. Transfer chicken to the bowl of chips. Then use your left hand to carefully coat all sides of the chicken with chips, pressing them lightly on the chicken to help them stick. Use your left hand to transfer the chicken strip to the prepared baking sheet. Repeat with remaining chicken.
Bake for about 10-15 minutes, until chicken is cooked to an internal temperature of 165°F. If you don't have a wire rack, flip tenders half way through baking.
Serve with honey mustard or your favorite barbecue sauce.
Recipe Notes
Four cups of gluten-free cornflakes can be substituted for the kettle chips. Place cornflakes in a food processor and process until coarse crumbs remain. You will have approximately two cups of crumbs.
Recipe by Joel & Mary Schaefer, Your Allergy Chefs. For more of their recipes, visit their website.