Feasting With FARE: Creamy Macaroni and Cheese
Outrageously cheesy and ultra creamy, mac 'n' cheese is a family favorite and the ultimate comfort food.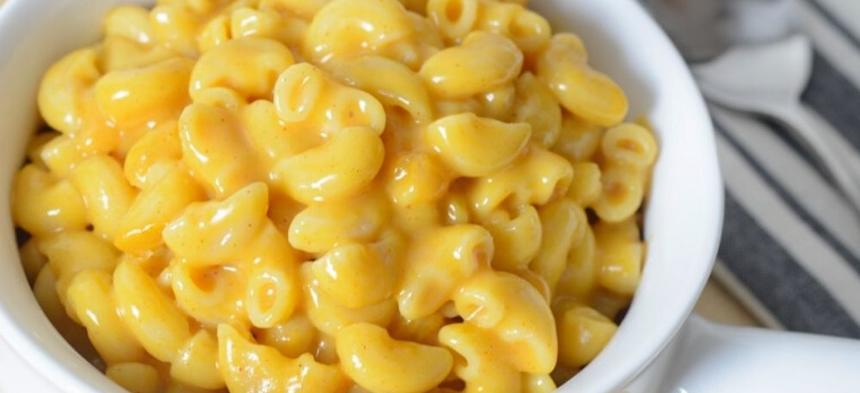 Makes: 6 servings
Free of: Gluten and the top 8 allergens
Ingredients
16 ounces of your favorite allergy-friendly elbow macaroni
5 cups rice milk beverage (click here for options)
¼ of a medium yellow onion
1 whole clove
2 bay leaves
4 tbsp soy-free, dairy-free buttery sticks (click here for options)
4 tbsp sweet white rice flour 
2 ½ tsp smoked paprika
1/8 tsp cayenne
2-1/2 cups dairy-free cheddar-style cheeze shreds (10 ounces) (click here for options)
¾ tsp salt
1/8 tsp white pepper
Instructions
Cook pasta according to package directions. Drain, rinse under cold water and set aside.
In a medium saucepan, bring rice milk, onion, clove and bay leaves to a boil. Reduce heat and simmer 10 minutes, stirring frequently. Strain and reserve liquid, discarding onion, clove and bay leaves.
To make the roux, using the same saucepan, melt buttery sticks over low heat. Add flour, paprika and cayenne and cook for one minute, stirring constantly.
Increase heat to medium. Add half of reserved rice milk and whisk until smooth. Add remaining rice milk. Increase heat to medium high. With a spoon, go around edges of pan to incorporate any roux. When the sauce comes to a simmer, reduce heat to low and simmer gently for 10 minutes. Add the cheddar-style shreds and cook another 5 minutes, whisking until the cheese is melted. Remove from heat and season with salt and pepper.
Preheat the oven to 350°F. 
In a large bowl, combine the pasta and cheese sauce.
Pour into a 2-quart casserole baking dish. Bake for about 30 minutes, until golden brown and bubbling. Let stand for 10 minutes before serving.
Notes
Cooking times for packaged specialty pasta are not always accurate. One reason could be how rapidly the water is boiling. To ensure your pasta does not overcook, check for doneness several minutes before package directions specify, and then every minute or so.
Sweet white rice flour is much higher in starch than regular rice flour and can be found at many markets and also online.
Recipe by Joel & Mary Schaefer, Your Allergy Chefs. For more of their recipes, visit their website.