Feasting with FARE: Jeweled Quinoa
Rachel and Leah are taking you through how to make Jeweled Quinoa for this episode of Fridge to Table with the Packers.
Food Allergy Friendly Jeweled Quinoa
Ingredients
1 2lb butternut squash, peeled, seeded, and cubed (about 3 cups-you can buy this pre-done in the grocery store)
1 small red onion, peeled and diced
1 Tablespoon olive oil
1 1/2 cups quinoa, rinsed
3 cups chicken broth, vegetable broth, or water
zest of one small orange
2 cups baby spinach, roughly chopped
2/3 cup dried sweetened cranberries
1/2 cup shelled pumpkin seeds (toasted optional)
Salt and pepper
Directions
Preheat oven to 425 degrees-Line a rimmed baking sheet with aluminum foil
In a large mixing bowl, combine the butternut squash, onion and oil and toss till evenly coated.
Spread out in an even layer on the prepared baking sheet. Season generously with salt and pepper.
Roast for 30 minutes, or until soft and cooked and the edges begin to slightly brown.
Remove baking sheet from oven and set aside.
Meanwhile, in a 2 qt. pot stir together quinoa, broth (or water), and orange zest, and cook according to package instructions.
Add the squash, onion, quinoa, spinach, cranberries and pumpkin seeds to a large mixing bowl, and combine gently. Season with additional salt and pepper if need be. Serve immediately. If making ahead of time, store in refrigerator.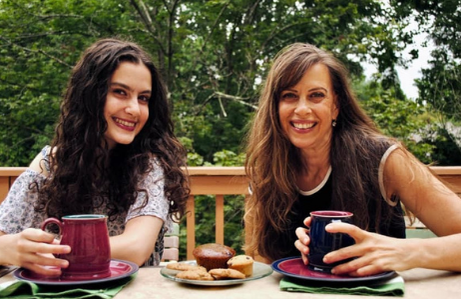 Fridge to Table with the Packers
This mother/daughter duo is here to provide witty banter while cooking up simple recipes that are incredibly tasty, and food allergy-friendly.