Feasting With FARE: Eggplant Parmesan
Join Chef Leslie Durso on her adventure Around the World in 80 Plates as she makes her next stop in Italy.
Whether you're allergic to wheat, dairy, soy, egg, fish, shellfish, sesame, peanut, or tree nut, this week, Leslie Durso is taking us to Italy to teach us how to make her Top 9 Free Eggplant Parmigiana!
Ingredients
2 eggplant (8 japanese eggplant)
1 cup gluten free flour
1 cup nutritional yeast
20 fresh basil leaves
2 cups tomato sauce
Salt

Instructions
Peel the eggplant lengthwise in strips, leaving some of the skin intact. Remove the tops and bottoms
Slice the eggplant lengthwise. Layer the slices of eggplant in a colander and sprinkle each layer with a pinch of salt. Let set for 15 minutes. Pat dry with paper towel.
Sprinkle the flour onto a plate and dip each slice of eggplant into the flour.
In a frying pan, heat the oil over medium high heat to 315 degrees.
Fry each slice of eggplant until it is lightly golden brown. Drain and transfer to paper towels to allow excess oil to be absorbed.
Preheat the oven to 325 degrees.
In a baking dish, layer the ingredients in the following order: tomato sauce, eggplant, nutritional yeast, fresh basil leaves. Repeat. Top it off with the remaining tomato sauce and sprinkle with remaining parmesan.
Bake the eggplant parmesan for 30 minutes. Let rest 15 minutes before slicing.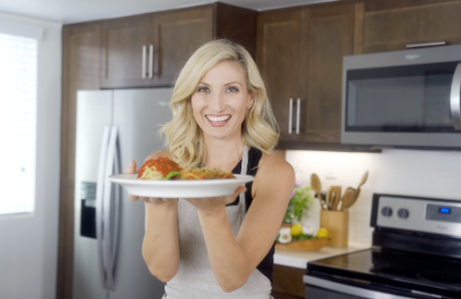 Around the World in 80 Plates with Leslie Durso
In Around the World in 80 Plates, host Leslie Durso recreates top-9 free dishes she puts on menus in resorts in the world's hottest destinations!