Feasting with FARE: Creamed Spinach
A flavorful favorite side dish made by Chef Leslie Durso, top-9 free, and a true crowd-pleaser.
Ingredients
2 lbs fresh spinach
3 tbsp butter substitute*
4 oz mushrooms, finely chopped
1/2 onion, finely diced
2 cloves of garlic, chopped
1 tsp Tapioca flour or cornstarch 
1 ½ cup plain oat milk*
½ cup vegan mayo
Salt and pepper
Gluten-free crispy onions
*Click here for substitution options
Instructions
Preheat oven to 350 degrees
Saute the fresh spinach in water or a tsp of olive oil. Drain and roughly chop, set aside.
In a sauce pot, on medium heat, melt the butter and add the mushrooms, onion and garlic.  Saute until the onion is soft and translucent.  
Add the flour and stir continuously until it becomes a paste like consistency and tan colored.  
Carefully add the oat milk and continue to stir continuously.
Add in the mayonnaise and stir well.
Add the spinach, stir well, and pour into a casserole dish.  
Top with the crispy onions, cover with foil and bake for 15-20 minutes.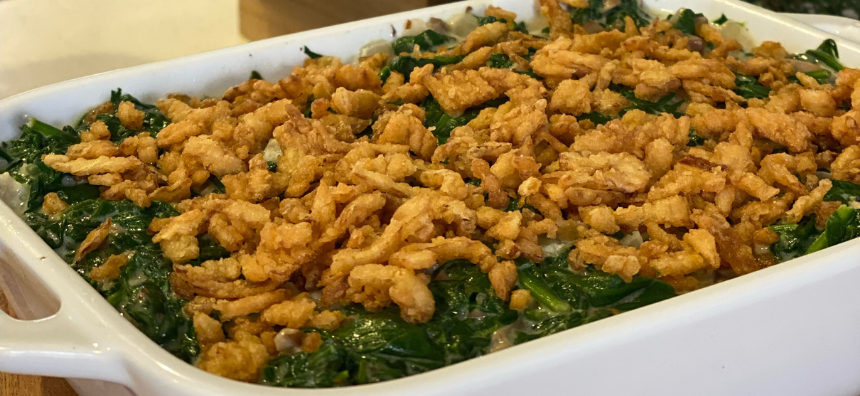 More Side Dishes
This holiday season whip up some of Chef Leslie Durso's recipes for classic and delicious top-9 free side dishes for you and your family to enjoy!
Learn More