Feasting with FARE: Granola
Rachel and Leah are taking you through how to make Granola for this episode of Fridge to Table with the Packers.
Ingredients
2 cups Gluten Free Oatmeal (make sure it says Gluten Free)
¼ cup coconut oil (you can use a neutral tasting oil if you are allergic to coconut)
¼ cup honey
2 tsp. cinnamon
3 TBSP unsweetened shredded coconut (optional)
2 TBSP ground golden flaxseed
¼-1/2 cup pumpkin seeds
¼ cup dried cranberries and/or raisins (optional)
2-3 TBSP chocolate chips (optional)
Directions
Preheat oven to 350
Combine oatmeal, coconut, flaxseed and pumpkin seeds in a large bowl.
Combine oil, honey and cinnamon in a small saucepan on low heat. Whisk until all ingredients are combined. Do NOT let it come to a boil (You can also microwave).
Pour over the oatmeal mixture and mix well.
Spread out in a single layer on a parchment lined cookie sheet.
Bake for 20 min. but watch carefully and stir it multiple times so it doesn't burn.
Cool completely in pan and transfer to a bowl.
Add the chocolate, cranberries, raisins or any other dried fruit you like and mix.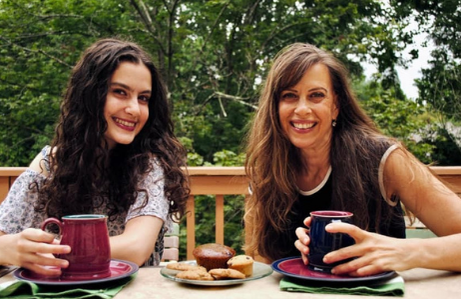 Fridge to Table with the Packers
This mother/daughter duo is here to provide witty banter while cooking up simple recipes that are incredibly tasty, and food allergy-friendly.