Feasting With FARE: S'mores Popcorn
Delicious Top-9 free treat made by Leah Kathmann, FARE's Food Allergy Summit 2022 Recipe to Riches winner.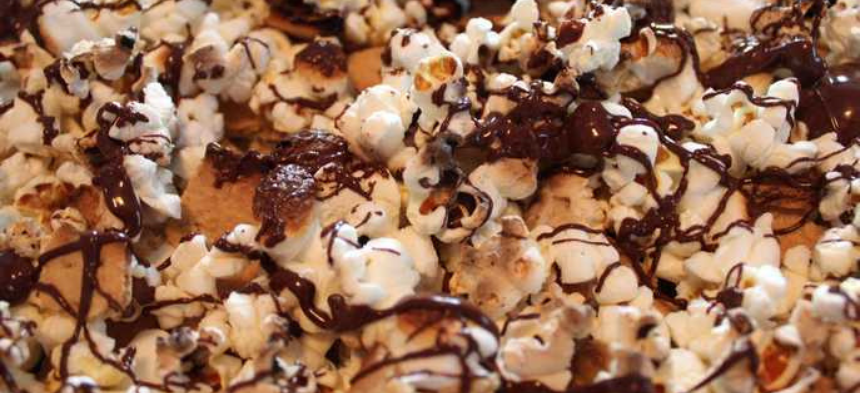 Ingredients
10 cups of plain popped popcorn
1 1/2 cups mini marshmallows 
1 cup vegan chocolate chips
1 1/2 cups lightly crushed graham cracker 
1 stick or 8 Tbsp. soy-free vegan butter 
3/4 cup granulated sugar
1/4 cup light brown sugar
1/4 cup light corn syrup
2 tsp. kosher salt
1/2 tsp. baking soda
A cooking spray of your choice 
Candy thermometer
Instructions
Preheat the oven to 250 degrees F. Line two baking sheets with either a silicone mat or wax paper. 
Place popcorn, marshmallows, chocolate chips and crushed grahams into a large bowl and mix well. 
Combine butter, granulated sugar, brown sugar, and corn syrup in a medium saucepan with a candy thermometer attached. Bring mixture to a boil over medium-high heat, stirring until melted and combined. (About 5 minutes).
Continue to boil the sugar mixture, no longer stirring it, until it is firm (about 245 degrees F, 5-7 minutes). Remove the sugar from the heat and add salt and baking soda.
Spray a spatula with non-stick spray. Immediately pour the sugar mixture over the popcorn mix and fold together well. Spread the mixture evenly on the baking sheets and bake until light brown and fully melted, about 20 minutes. Remove from oven and let cool until chocolate is hardened (about 1 hour). 
Note: all ingredients stated above are Top 9 free. Alternatives can be used if applicable such as using regular graham crackers if a wheat allergy does not apply or regular chocolate chips if a dairy or soy allergy does not apply.