Feasting With FARE: Pumpkin Pie
A delicious and simple pumpkin pie filling that is complemented with a light and flaky oat flour pie crust by Lori Dziuba.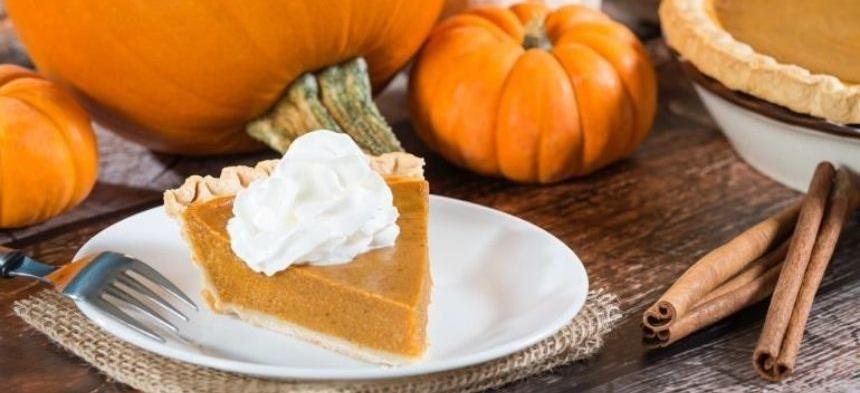 A delicious and simple pumpkin pie filling is complemented with a light and flaky crust. This oat flour pie crust is best for pumpkin pie. The crust ingredients make enough for one pie shell. I have experimented with pie crusts for years. The best results were achieved with a combination of two types of fats. Lard and vegan butter sticks resulted in the best flavor and texture. For best results, prepare and bake the pie crust first, then follow the instructions for making the pumpkin pie.
Oat Flour Pie Crust
Ingredients
1 ½ cups oat flour*
½ teaspoon salt
¼ cup lard, cold
¼ cup vegan butter, cold*
¼ cup ice cold water
*Click here for substitution options
Instructions
In a medium sized bowl, whisk together oat flour and salt.
Add cut pieces of lard and vegan butter into the flour.
Using two knives mix the fats into the flour until pea sized clumps form.
Add ice cold water, one tablespoon at a time until dough is formed.
Using your hands, work dough onto pie plate bottom, and up around sides, try to create an even thickness of the dough.
Note: Keeping your hands wet with cold water will help you work the dough.
Bake for 20 minutes. This will result in a partially baked crust, providing enough stability to hold pumpkin pie filling.
Pumpkin Pie Filling
Ingredients
1 ½ cups pumpkin puree 1 cup coconut cream
1 cup brown sugar
1 teaspoon cinnamon
½ teaspoon nutmeg
¼ teaspoon ground cloves
3 tablespoons cornstarch
Instructions
Place all ingredients into a blender and blend until thoroughly combined. Pour pie filling into pre-baked pie shell.
Bake at 350 F for 40-50 minutes. Middle should still be slightly soft; it will firm up as it cools.