Feasting With FARE: Coconut-Apricot Bliss Bars
Rachel and Lean teach us how to make Coconut-Apricot Bliss Bars on the first episode of Fridge to Table with the Packers.
Ingredients
Shortbread Base
1 cup coconut flour
1/3 cup coconut oil (you can use canola as well-just less of a coconut/macaroon vibe)
3 TBSP honey
Apricot Filling
Note-we make a lot of the filling and use it for other things-spread on matza, or in a sauce for chicken, you can also mix it with a little coconut flour and make energy bites- you can halve this recipe if you don't want extra.
2 cups dried apricots (cover them in hot water for a few minutes to get them nice and soft).
1 TBSP maple syrup
1 TBSP shredded unsweetened coconut
2 TBSP water
Chocolate Shell Top
½ cup chocolate chips
½ TBSP Coconut oil
Instructions
Shortbread Base
Preheat oven to 350 degrees
Pour coconut flour into a bowl.
Add oil and honey to flour.
Using a fork, combine the flour and wet ingredients until crumbly but able to hold its shape.
Press dough evenly into a parchment lined square baking dish.
Using a fork, poke a few holes in the dough to prevent it from puffing up.
Bake for 10-12 minutes until golden brown (we used a glass baking dish; an aluminum dish may take a little less time so keep an eye on it).
Apricot Filling

Take the soaked apricots and place in food processor.
Add the maple syrup and shredded coconut.
Pulse the apricots until all chopped.
Run water slowly through funnel as you run the processor to create a nice smooth paste.

After crust has cooled take a few dollops of the apricot filling and spread a nice even layer across the crust. Don't make the layer too thick-or else it can ooze out.
Melt chocolate chips and coconut oil until nice and smooth.
Pour over the apricot filling and spread evenly.
Place in freezer until chocolate looks solid (almost dull looking)
Approximately 20-30 minutes in freezer.
Cut into squares.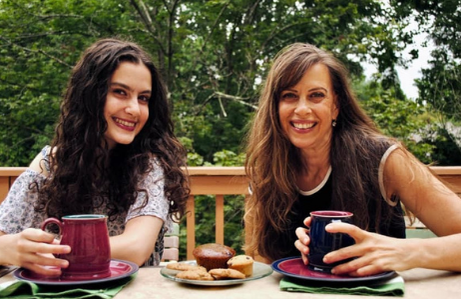 Fridge to Table with the Packers
This mother/daughter duo is here to provide witty banter while cooking up simple recipes that are incredibly tasty, and food allergy-friendly.