Feasting With FARE: Triple Lemon Cupcakes
This cupcake has three layers of tangy and fragrant lemon flavor: lemon cake, a lemon curd filling, and a tangy sweet lemon frosting.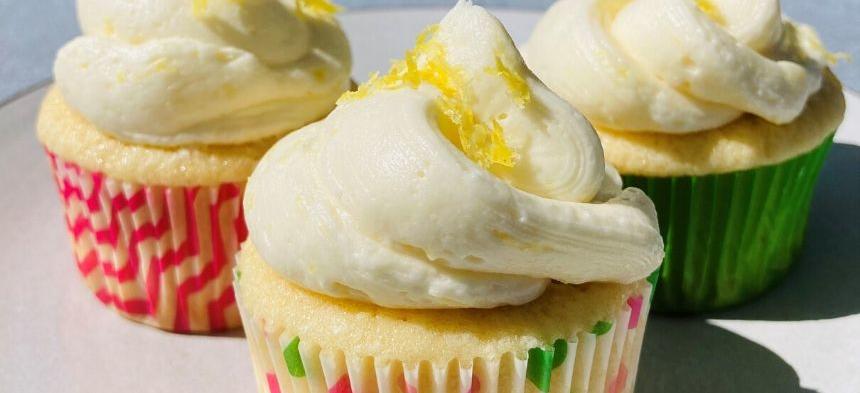 This cupcake recipe comes from one of FARE's very own! We asked our resident baker and Associate Director of Program Management at FARE, Satya Shanmugham, to share one of her favorite recipes with us. Enjoy!
---
I've made this recipe with various substitutions each time, such as soy milk instead of dairy, or a butter substitute, and the result is always very forgiving, so feel free to experiment! Personally, I double the lemon zest in both the cake and the frosting because it punches up the flavor. The recipe can be successfully cut in half without adjustments.
(The recipe is adapted from Triple Lemon Cupcakes by Crazy For Crust.)
Ingredients
Cupcake
1 1/2 cups all-purpose flour*
1 tsp baking powder
1/2 tsp salt
1/2 cup unsalted butter, melted*
1 1/4 cup sugar
3 large eggs*
1 Tbsp vanilla extract
1/4 cup fresh lemon juice
1 Tbsp lemon zest (I use 2 Tbsp!)
1/2 cup whole milk*
*Click here for substitution options
 
Filling
1/2 cup lemon curd (I use store-bought but can be made from scratch)
Frosting
1 cup unsalted butter, softened*
4 1/2 cups powdered sugar
1 Tbsp lemon zest (I again use 2 Tbsp here)
4 Tbsp lemon juice
1/4 tsp salt
1-2 Tbsp heavy whipping cream for consistency*
*Click here for substitution options
 
Instructions
Preheat oven to 350°F. Line cupcake tins with liners (makes 15-16 cupcakes).
Whisk flour, baking powder, and salt in a medium bowl.
Add melted butter to a large bowl and mix in sugar with a hand mixer for 30 seconds, until thick and yellow. Add eggs one at a time, beating after each addition. Beat in vanilla extract, lemon juice, and zest.
Add the flour mixture and milk alternately, starting and ending with the flour. Don't over mix! Divide batter among liners, filling 2/3 full (about 1/4 cup of batter per cupcake). Bake for 13-18 minutes until a toothpick comes out clean. Cool completely before frosting.
To fill: cut out a small bit of the top/center of the cupcake. Cut a hole that's about the size of a dime and the amount of cupcake you take out is a little larger than a marble. (You can use a paring knife or even a strawberry huller.)
Fill each hole with about 1/2 - 1 tablespoon of lemon curd. (Optional: replace a piece of the cupcake to cover.)
To make the frosting: Beat butter until creamy. Beat in salt and 1 cup of powdered sugar at a time until it's all added.
Beat in lemon juice and zest. Add 1 tablespoon of heavy whipping cream and mix until smooth. Add more cream as needed for desired consistency. Frosting can be made up to 2 days ahead and stored in the refrigerator. Make sure to let it come to room temperature before using.
Frost cupcakes by placing frosting in a pastry bag with decorative tip, or even a plastic sandwich bag with the corner snipped off. Add extra lemon zest or sprinkles for decoration, if desired.
 
Recipe by Satya Shanmugham.