Feasting With FARE: Scalloped Potatoes
Creamy, smooth and tender scalloped potatoes made without dairy – a dream come true recipe made by Lori Dziuba.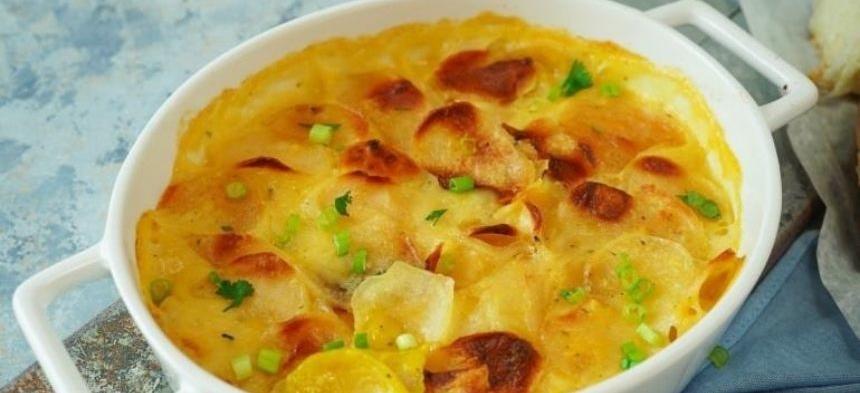 These can make an everyday meal feel special. Add this to your holiday feast menu for a side dish everyone can enjoy. Nothing can precisely replace real cheese, but wow, the sauce used in this recipe is delicious! No one will miss the cheese.
Ingredients
5 cups sliced potatoes
2 cups dairy-free milk, plain unsweetened*
1 cup chicken broth
1/3 cup nutritional yeast
1 teaspoon garlic powder
1 teaspoon onion powder
½ teaspoon dried thyme
½ teaspoon salt
¼ teaspoon cayenne pepper
*Click here for options
Cornstarch Slurry:
¼ cup cornstarch
¼ cup cold water
Instructions
Peel and thinly slice the potatoes – using the fine slice blade on a food processor makes very quick work of this.
Submerge your potato slices in a bowl of cold water to prevent oxidation.
Preheat the oven to 425 F, lightly oil a casserole dish, approximately 9x11.
In a medium pot, whisk together the milk, chicken broth, nutritional yeast, and spices. Bring the sauce mixture to a simmer, stirring frequently.
In a small bowl, mix together the cornstarch and cold water until there are no clumps.
Pour the cornstarch slurry into the simmering sauce and whisk well. When thickened, remove the pot from heat.
Drain the potatoes. Layer half in the casserole dish; pour half the sauce over the potatoes. Continue to layer the remaining potatoes and sauce.
Cover the dish with foil and bake for 25 minutes. Uncover and bake for an additional 15-20 minutes – or until the potatoes are fork tender.