Feasting With FARE: Honey Mustard Fall Veggies
A new season means new fresh veggies, and fall offers some of the best. From turnips to parsnips and sweet potatoes and more, this tasty dish is sure to remind you of all the great things fall has to offer!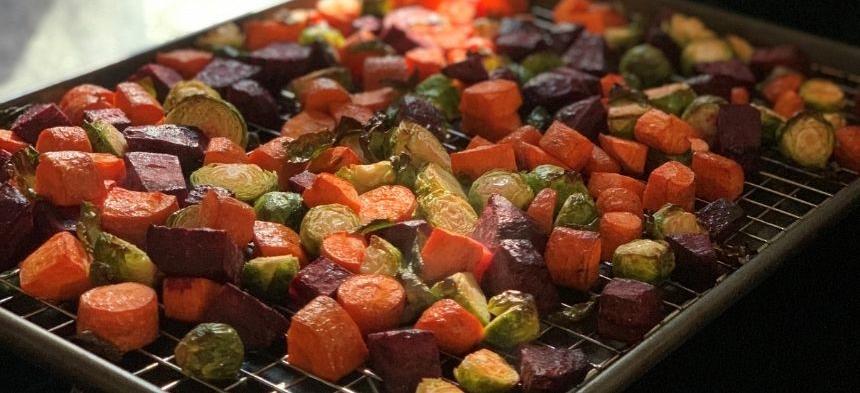 Ingredients 
Beets, chopped
Carrots, chopped
Brussels sprouts, trimmed 
Apple cider vinegar
Oil 
Honey (or your favorite vegan sweetener – agave, maple syrup)
Dijon mustard (check for hidden allergens) 
Spinach (or your favorite dark leafy greens)
Instructions
Roast fall vegetables at 425 degrees for 25-30 minutes. Cooking times may vary, so keep an eye on them! 
While the veggies are in the oven, mix equal parts vinegar, honey, oil and Dijon mustard as dressing. Set aside. 
Once the veggies are fork tender, remove from oven. These can be served hot (or chilled, if made ahead) on a bed of spinach. Toss with dressing. Be careful to pour slowly to avoid drowning the crisp veggies. Serve immediately! 
Recipe Modifications
Short on time? Roast the veggies ahead of time and serve this salad cold. 
Add other fall veggies to this mix – turnips, parsnips, sweet potatoes, etc. 
Make a complete meal by adding your favorite protein – roasted chicken or turkey, grilled steak, chicken or vegan sausage, lentils or garbanzo beans.
If you have extra dressing, store in the fridge for later in the week. Ingredients may separate in the fridge, so shake/whisk well before using.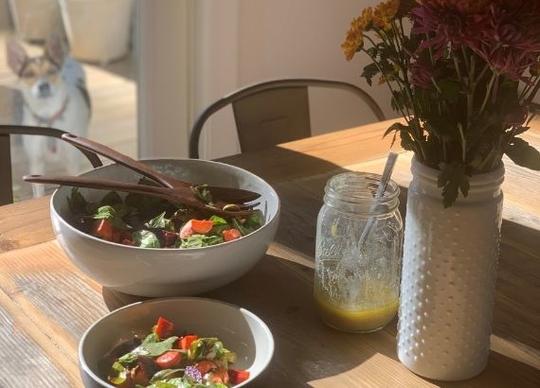 Recipe by Tiffany Leon, Registered Dietitian and FARE's Senior Manager of Training and Professional Programs.