Feasting With FARE: Wild Blueberry Scones With Fresh Lemon Curd
Join Chef Leslie Durso on her adventure Around the World in 80 Plates as she makes her next stop in England!
Get a taste of the English countryside without the travel as Leslie Durso takes us to England for the next stop on our journey around the world.
Makes 8
Ingredients
2 cups Gluten-Free flour
1/4 cup granulated sugar
1 Tbsp baking powder
1/2 tsp salt
6 Tbsp frozen vegan butter
1 cup full fat coconut milk or oat milk coffee creamer
1 tsp. pure vanilla extract
1 cup frozen wild blueberries
Lemon Curd
½ cup sugar
1 TBSP cornstarch
½ cup oat milk
¼ cup lemon juice
2 tsp. Lemon zest

Instructions
Preheat oven to 400 degrees. Line a cookie sheet with parchment paper and set aside.
In a large bowl, whisk together the flour, sugar, baking powder, and salt.
Using a box grater, grate the frozen butter into the flour bowl and mix until it's a course mealy texture.
In a small bowl, whisk together the coconut milk and vanilla. Pour over the flour mixture and stir just until dough begins to form. Don't over mix! Fold in blueberries.
Place dough on a floured countertop and gently push together with your hands. Form into a 1 inch tall round. Use a knife to cut 8 triangles.
Place the scones on the cookie sheet and brush the tops with coconut milk.
Bake for 15-20 minutes or until the scones are golden. Let cool on the cookie sheet for 5 minutes before transferring to a wire cooling rack.
For the lemon curd: In a small pot, whisk together the sugar and cornstarch. Mix in the rest of the ingredients and turn the heat to medium. Whisking frequently until it thickens, about 5 minutes. Remove from heat till it cools. Store in an airtight container in the refrigerator for up to a week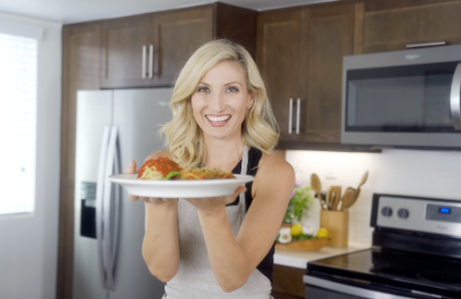 Around the World in 80 Plates with Leslie Durso
In Around the World in 80 Plates, host Leslie Durso recreates top-9 free dishes she puts on menus in resorts in the world's hottest destinations!