Feasting with FARE: Patatas Bravas
Who doesn't love potatoes? This recipe by Simon Majumdar offers a spicy and savory twist for everyone's favorite staple ingredient.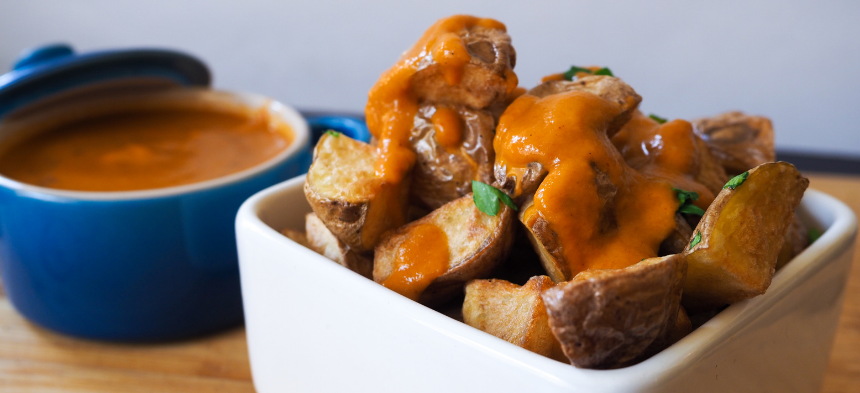 Those of you who follow me on my social media sites may have picked up that I am rather obsessed with the country of Spain. I have been lucky enough to visit many times. Every time, I fall even more in love with the culture and, of course, the food. My favorite city in Spain, in fact, in the world, is Madrid. It is a glorious capital city filled with museums, parks, and what I consider to be the best eating anywhere.
Perhaps the aspect of Spanish dining that people might know best is that of "tapas." The word, "tapa," literally translates to "cover" or "lid" and originated when pieces of bread were placed over the tops of wine glasses to prevent flies from getting at the precious contents. Gradually pieces of salty ham or cheese were added on top of the bread as an incentive to order more drinks and, as restaurants and bars tried to outdo each other, the famous small plates dining culture developed.
There is nothing I like more than wandering the streets of Madrid dipping in and out of bars, seeing what tapas are on offer. "Patatas Bravas" means, so I'm told, "fierce potatoes" because of the relative spiciness of the sauce. It is one of my absolute favorites.
Patatas Bravas Recipe
Serves: 4-6
Ingredients
For the Potatoes
3 lbs. Potatoes (You can use your favorite type – I used Yukon Gold)
1 Teaspoon Kosher Salt
1 Teaspoon Ground Black Pepper
1 Cup Olive Oil (or Vegetable Oil) for Deep Frying
For the Brava Sauce
3 Large Tomatoes (Deseeded & Diced)
2 Shallots (Diced)
3 Cloves Garlic (Minced)
2 Red Chilis (Deseeded and Minced)
1 Teaspoon Sweet Paprika
1 Teaspoon Smoked Paprika
1 Teaspoon Cayenne
1 Teaspoon Sugar
1 Teaspoon Kosher Salt
1 Teaspoon Ground Black Pepper
3 Tablespoons Sherry or Red Wine Vinegar
3 Tablespoons Olive Oil
For Garnish
¼ Cup Fresh Italian Parsley (Roughly Chopped)
Instructions
For the Potatoes
Cut the potatoes into a 1-inch dice.
Parboil the potatoes for 5 minutes in salted boiling water.
Drain the potatoes and then shake them around in the pan to give them a few rough edges. This makes them even more crunchy.
When ready to fry, bring the olive oil or vegetable oil to a medium heat and fry gently for about 10 minutes until the potatoes are crisp and golden. You can also air fry the potatoes. Just toss them in olive oil before adding them to the air fryer.
When they are cooked, drain on kitchen paper to remove excess oil.
Place in a bowl and toss with salt and pepper.
For the Bravas Sauce
Bring the olive oil to a medium heat in a large saucepan.
Add the shallots.
Season with salt and pepper and cook for 3-4 minutes.
Add the garlic and cook for 2-3 minutes.
Add the red chili and cook for 2-3 minutes.
Add the sweet and smoked paprika, the sugar, and the cayenne.
Combine well and cook for 1-2 minutes.
Add the vinegar and cook for 1 minute.
Add the tomatoes and combine well.
Cover the pan with a lid and turn the heat down to a gentle heat.
Cook for 15 minutes until the tomatoes have broken down.
After 15 minutes, blend the sauce to a smooth paste.
Pass the sauce through a strainer to make it even more smooth. This is optional, but I like the end result.
Check the sauce for seasoning. Add more salt if necessary.
To Serve
Spoon the sauce over the crunchy potatoes.
Garnish with chopped parsley.
---
Photo Credit: Sybil Villanueva
Disclaimer: This post from Simon Majumdar is for informational purposes only and is neither intended as medical advice, diagnosis, or treatment nor as substitute for the medical advice, diagnosis or treatment of a physician or other qualified health provider. Please consult your physician or other qualified health care provider for medical advice, diagnosis, or treatment.