Feasting With FARE: Jerk Jackfruit and Mango Chutney
Take a trip to Jamaica with Chef Leslie Durso with this delicious Top-9 food allergen-free recipe for Jerk Jackfruit and Mango Chutney!
Ingredients
Jerk Jackfruit
3 20 oz. cans jackfruit, drained and rinsed 
½ cup chopped red onion
6 green onions, chopped
5-8 cloves of garlic
1 inch piece of ginger, peeled and sliced
1-4 scotch bonnet or habanero pepper, depending on your heat preference
2 tbsp. olive oil 
2 tbsp. lime juice
3 tbsp. maple syrup
1 tsp. dried thyme 
1 tbsp. all-spice 
1 tsp. ground cinnamon 
¼ tsp. ground nutmeg 
2 tsp. salt 
½ tsp. cracked black pepper
Mango Chutney
2 tbsp. olive oil
1-1/2 cups diced yellow onion (2 onions)
2 tsp. peeled, minced fresh ginger
1-1/2 tsp. minced garlic
2 ripe mangos, peeled, seeded, and small-diced
1/3 cup freshly squeezed orange juice
2 tsp. light brown sugar
1 tsp. kosher salt
1/2 tsp. freshly ground black pepper
1 to 2 tsp. minced fresh jalapeño pepper, to taste (1 pepper)
2 tsp. minced fresh mint leaves
Instructions
Jerk Jackfruit
Place all ingredients other than jackfruit in a food processor and process until slightly chunky. 
In a large skillet, combine the jackfruit and sauce. Bring to a simmer, cover and let cook 10-15 minutes until you can easily break up the jackfruit with a wooden spoon. 
Serve with rice and mango chutney.
Mango Chutney
Sauté the olive oil, onions, and ginger in a large sauté pan over medium-low heat for 10 minutes, or until the onions are translucent.
Add the garlic and cook for 1 more minute.
Add the mangos; reduce the heat to low and cook for 10 more minutes. Add the orange juice, brown sugar, salt, black pepper, and jalapeños; cook for 10 more minutes, or until the orange juice is reduced, stirring occasionally. 
Remove from the heat and add the mint. Serve warm, at room temperature, or chilled.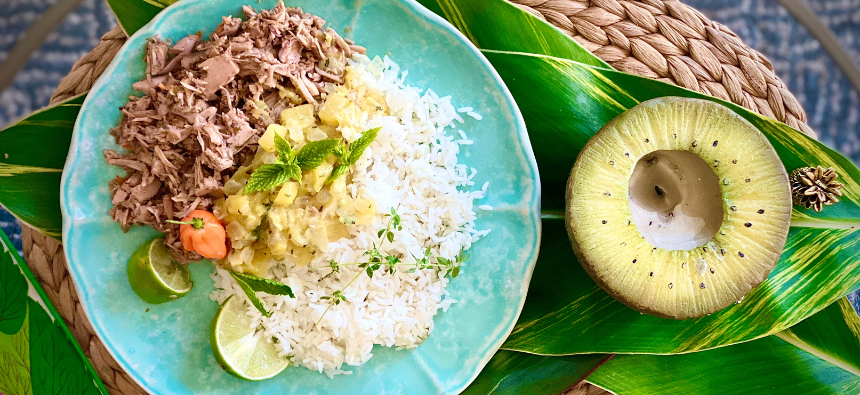 More Around the World in 80 Plates with Leslie Durso
More Recipes