Feasting with FARE: Budgie Bars
Budgie Bars are a cross between a candy and a protein bar. The name comes from the fact that these bars look a bit similar to birdseed cakes! Recipe by Nicole Gordon, one of FARE's Food Allergy Summit 2022 Recipe to Riches finalists.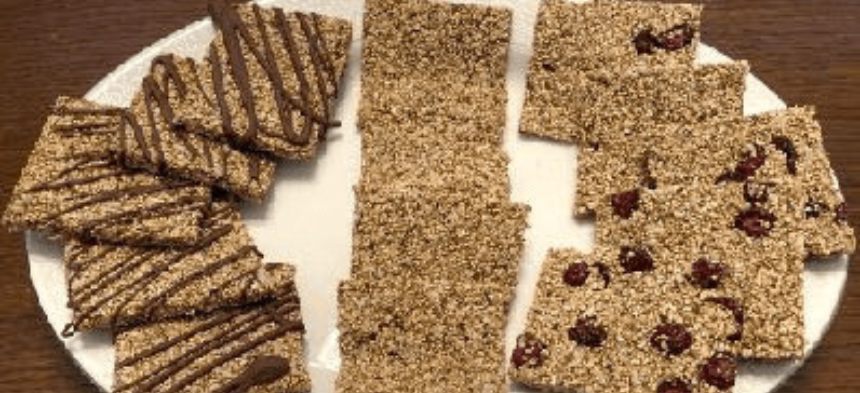 Ingredients
3/4 cup unpopped amaranth, that will then be popped
3/4 cup hemp seeds, dehulled (hemp hearts)
1 tsp. salt
1 Tbsp. grape-seed oil
3/4 cup light agave syrup or honey
3/4 cup maple sugar or plain white sugar
Optional:
up to ¾ cup dried fruit (cranberries, tart cherries, chopped apricots etc.)
½ cup chocolate chips, for melting
Instructions
Gather ingredients. Measure out ¾ cup unpopped amaranth.
This is the fun part! In a deep, flat-bottomed pot, over medium-high heat, pop the amaranth in batches. Test heat by pouring in about a teaspoon of amaranth; it should begin to pop within about 10 seconds. If it pops too quickly and starts to burn, the pot is too hot. If the amaranth pops too slowly the pot is not hot enough. Each batch should be just enough to cover the bottom of the pot, don't do too much at once. There will still be a lot of unpopped seeds, don't try to pop them all. The unpopped amaranth provides a nice toasty flavor. Transfer each batch of popped amaranth into one large bowl.
Let popped amaranth cool. When cool, add hemp seed and salt to the popped amaranth, stir together, and set aside. Also add dried fruit, if desired.
Make syrup. Pour 1 tablespoon grape-seed oil into a measuring cup. Add agave syrup (or honey) to the measuring cup to reach ¾ cup, plus a tablespoon extra. Add ¾ cup maple sugar to the pot previously used to pop the amaranth. Pour in the oil/agave syrup. Heat and stir over medium-low heat, breaking up any clumps with a spoon or spatula. Stir until maple sugar is fully dissolved and mixture is smooth.
Turn off heat. Stir in the popped amaranth and hemp seed mixture. Stir until mixture looks like wet sand.
Transfer mixture to a parchment paper-lined cookie sheet. Spread mixture out a little, then cover with another sheet of parchment paper and use a roller to roll out the mixture into an approximate rectangle of desired thickness.
Remove paper. Cut into 2-inch square bars. Recipe will yield approximately 36 bars.
If desired, melt some chocolate chips and drizzle over the top, then cool in the fridge for 20 minutes to harden the chocolate.
Wrap bars in foil and label. Store at room temperature, or in the freezer.