Feasting With FARE: Strawberry Crunkle
Leah and Rachel are back with a super easy and refreshing allergen-friendly recipe that is perfect for your next summer cookout or dinner party. You won't want to miss this delicious family favorite!
Ingredients
Crust Ingredients
1/3 cup canola (you can use coconut or any neutral type of oil)
½ cup coconut sugar (you can use brown or sucanat)
1 cup Gluten-Free Oat flour (you can use regular flour as well)*
1 cup Gluten-Free Oats (I used whole roll oats-you can also use one-minute oats but it will have a different texture)
1 tsp. baking powder
2 tsp. Vanilla
½ tsp. maple extract
A little milk of your choice if the crust is too dry.*
*Click here for substitution options
Filling
2 ½ cups strawberries-hulled and cut into quarters
2 TBSP maple syrup
1 ½ tbsp. starch (we used potato, you can use corn or arrowroot)
1-2 TBSP water or juice to dilute the starch
1 TBSP vanilla extract
Instructions
Pour the maple syrup, vanilla and the diluted starch over the strawberries and mix them thoroughly until the strawberries are coated.
Assemble the sugar, oat flour, oats, baking powder together and mix to combine
Add the oil and vanilla. Using a fork mix the wet and the dry ingredients until they come together in little pea-size clumps. If too dry, add a little milk, but not too much. You want it crumbly but able to hold its shape.
Reserve 1/3 cup of the oat mixture.
Press oat mixture into an 8x8 baking pan and up the sides.
Pour the strawberry filling into the crust and sprinkle the reserve oat mixture over the top.
Dot with a few chocolate chips.
Bake at 350 for approximately 40 minutes.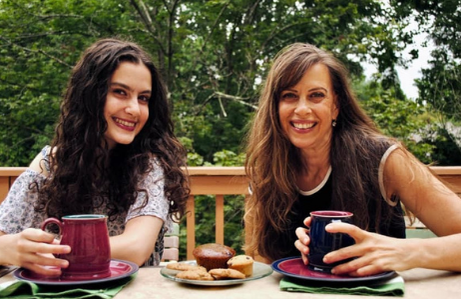 Fridge to Table with the Packers
This mother/daughter duo is here to provide witty banter while cooking up simple recipes that are incredibly tasty, and food allergy-friendly.