Feasting with FARE: Quinoa Tabbouleh Salad
A Fourth of July Feast with FARE brought to you by Food Allergy P.I.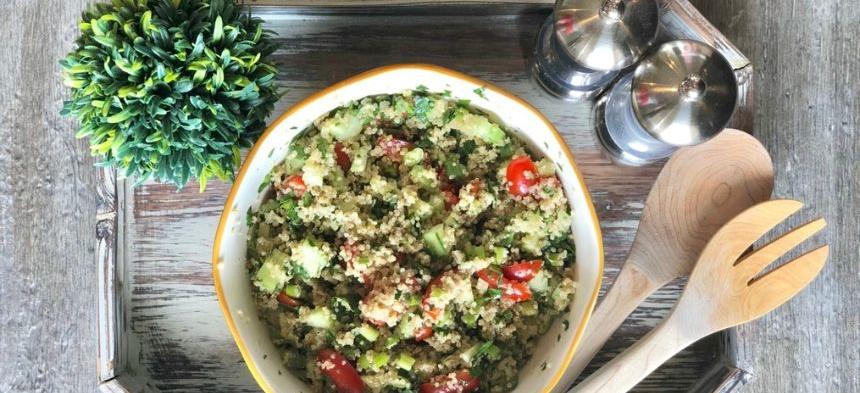 When pasta and potato salads aren't your thing, try this Quinoa Tabbouleh Salad. It's healthy, refreshing, and free from the top 9 allergens.
Ingredients
1 C quinoa rinsed & drained
2 C water
1 English cucumber peeled & chopped
1 pint cherry or grape tomatoes quartered lengthwise
1 bunch flat leaf parsley finely chopped
6 green onions chopped
3 T bottled lemon juice or the juice of 1 fresh whole lemon
1/3 C grapeseed or extra virgin olive oil
1/4 tsp sea salt
dash of pepper
pinch of crushed red peppers
Instructions
Cook quinoa and water, first bringin the 2 cups of water to a boil, and then adding quinoa to boiling water. Stir and let boil a few minutes, and then reduce to a simmer for about 10-15 minutes, until tender and liquid is absorbed. Then let sit for about 10-15 minutes to cool. For time saving tip, you can make the quinoa the day before and use chilled pre-cooked quinoa to prepare the salad the next day. Once cooled to room temperature, fluff with a spoon and add to a larger bowl.
Prep veggies and herbs as noted above, and add them to the quinoa. Stir gently until well combined.
Recipe by Lisa Horne, Food Allergy P.I. For more of her recipes, visit her website.