Feasting With FARE: Potato Latkes
By Jonathan Cane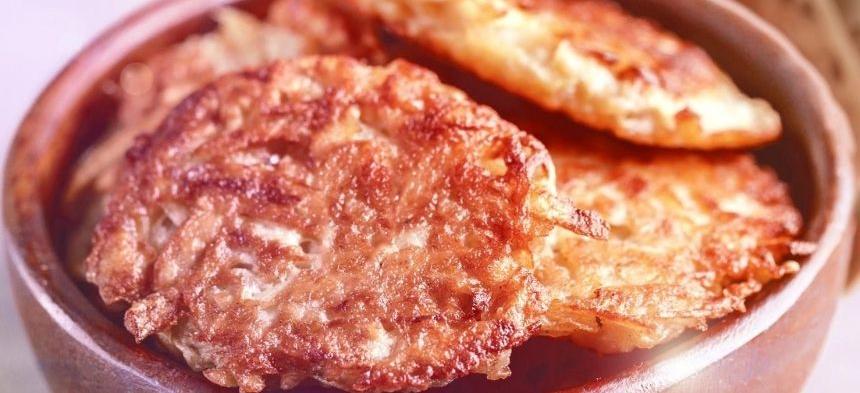 Ingredients 
5 medium potatoes (about 2.5 pounds)
1 small yellow onion, grated or finely diced
2 tsp ground sea salt
1 tsp fresh ground pepper
1 tsp smoked paprika
½ tsp cumin
2 tbsp aquafaba / (the brine from a can of chickpeas)
2 tbsp potato flour 
Vegetable oil for pan frying 
Instructions
Grate potatoes using a box grater or food processor with grater attachment. Place them in a paper-towel or muslin/cheesecloth lined colander, and squeeze/let any excess water drain away. The drier the mixture the crispier your latkes will be. 
In a large mixing bowl, combine onions, grated potatoes, spices**, aquafaba and enough flour to make the mixture bind together.
**Do not add salt until you are ready to form latkes as salt will make potato mixture weep and the mixture needs to stay dry for as long as possible.
Heat up a non-stick pan over medium-high on the stovetop. Pour enough oil to barely cover the bottom of the pan. Once the oil is hot, place a tablespoon of the potato mixture on the oil and flatten it with a back of your spoon. 
Fry on one side for a 3-5 minutes, until you'll notice the edges will turn brown. Once they do, flip them to the other side using a spatula. Fry until the other side turns golden brown. Remove from the pan and place on a plate lined with paper towels to soak away excess oil, or use a cooling rack with paper towels set underneath the catch the dripping oil. 
Put ready latkes in a warm (200º) oven while you fry subsequent batches.
Serve warm with apple sauce. 
Recipe by Jonathan Cane, FARE's Creative Director.