Feasting With FARE: Pumpkin Spice Cookie Dough Bites
By Heather Gass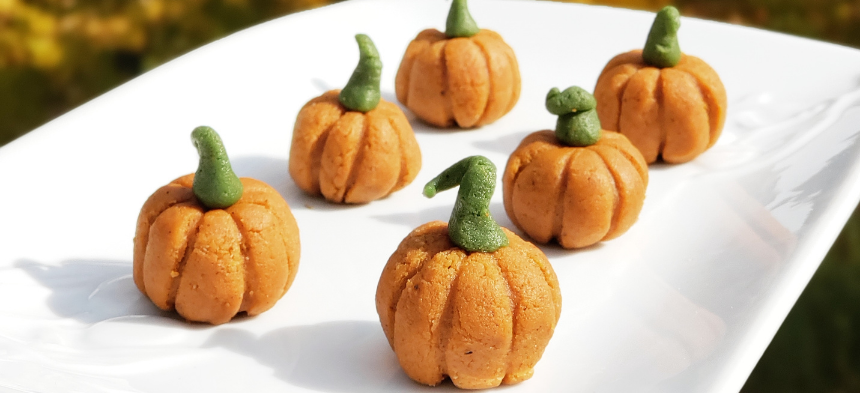 Makes: about 30 bites
Ingredients
3/4 cup oat flour or almond flour *
1/2 cup vanilla protein powder (use whatever is safe for your allergies!)
1 tsp pumpkin pie spice
4 tbsp sunflower butter*
4 tbsp pumpkin
3 tbsp maple syrup or agave syrup
1 tsp vanilla extract
Red, yellow, green food coloring (optional)
*Click here for substitution options
Instructions
Whisk dry ingredients together (flour, protein powder, pumpkin pie spice) in a large bowl.
In a separate bowl, mix the rest of the ingredients together (wet ingredients). Warm the sunflower butter in the microwave at 10 second intervals to soften if needed.
Add wet ingredients to dry ingredients and incorporate until a dough forms. Add more pumpkin puree or a little water if necessary to make the consistency of a cookie dough. 
Use a small cookie scoop or form half inch size balls with your hands. 
To make pumpkins, separate a golf-ball sized piece of dough and color with green food color. Color the remainder of the dough with yellow and a smidge of red food coloring to make orange. The colors will be muted because of the light brown color of the dough.
To make the pumpkin shape, press the side of a toothpick into the balls to make the grooves. Roll a small amount of the green dough into a stem shape and place on top of the pumpkin.
Store covered in the refrigerator for up to 5 days.
Tip: make your own oat flour by placing old fashioned oats in the food processor and pulsing until a flour consistency is reached.