Feasting With FARE: Chicken & Sausage Gumbo
Due to allergies, we often miss out on this delicious dish but today Dr. Reneé and Chef Alycia are cooking up an allergy-friendly version!
Ingredients
1 cup sunflower oil or any allergy-friendly oil you prefer
1 ¼ cup of gluten-free flour or any allergy-friendly flour you prefer
1 green bell pepper
1 large yellow onion
2 celery stalks
okra, frozen or fresh, cut in small pieces
6 chicken legs
12-16 oz. andouille sausage, cut in rounds and diced
2 dry bay leaves
3 finely diced scallions
3 cloves minced garlic 
broth if needed
1 tbsp. of Old Bay or any creole seasoning
cayenne pepper to taste
Instructions
Dice the bell pepper, onions, and celery (small dice).
Brown the diced sausage in oil to give the oil flavor, remove the sausage and put to the side and add the chicken legs to the oil until you get a nice brown on the skin and add water until just covering the chicken. Season the water with salt and pepper and bay leaves, let simmer until the meat can be pulled off of the bone. Remove chicken from pot of stock set aside to cool. Remove the skin from the bones and dice the chicken.
In a hot thick bottomed pot med low-med, add oil and flour and stir often, until a dark roux is made, the darker the better (the color of dark chocolate).  Reheat the chicken stock that you made.
Once you have reached your desired color add the "holy trinity" of bell pepper, celery and onion (plus the garlic) to soften in the roux.
Add the chicken stock to the pot with the vegetables and the roux, it should be thin to start. Add the diced chicken, sausage rounds and seasoning and cook this for at least an hour on a simmer.  Stirring occasionally, add okra and simmer until cooked thru.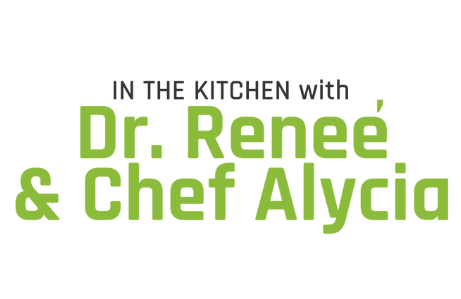 About the Series
Dr. Reneé and Chef Alycia are here to show you that food-allergy-friendly foods can and should be as delicious as they are safe to eat!