Feasting With FARE: Rainbow Rusks (South African Biscotti)
Rusks are a staple in South Africa where Elani Weist, one of FARE's Food Allergy Summit 2022 Recipe to Riches finalists, is from. She wanted to share this with her children, so she adapted this family recipe to be a fun and delicious top-9 free snack!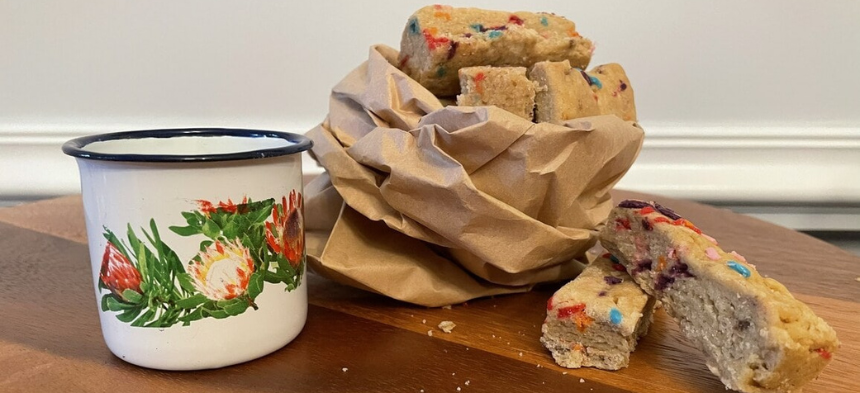 Ingredients
44 oz. gluten-free flour (2 bags)
1 tbsp. baking powder
3. 1 tbsp. cream of tartar
1 tsp. salt
1 1/2 cup granulated sugar
2 2/3 cup shortening (or vegan butter)
2 plant based "egg" mix (click here for other egg substitutions)
1/2 cup canned coconut cream (stored in fridge)
1 tsp. baking soda
1 can coconut milk
1/2 cup rainbow (jimmies) sprinkles
Instructions
Mix flour, baking powder, cream of tartar, salt, and sugar together in a large mixing bowl.
Cut shortening into flour mixture.
Add baking soda to coconut milk and let stand for 5 minutes.
Mix together egg substitutes, coconut cream, and baking soda/coconut milk mixture and add to dry ingredients.
Stir in about 3/4 of the sprinkles and mix but do not over-mix.
Line two 9 x 13 rectangular greased pans with baking paper and pour dough into pans. Make sure that the entire surface is filled, from side to side.
Divide the rest of the sprinkles between the pans and gently press into dough.
Bake at 350°F for one hour.
Let it cool and cut into 2 x 3/4 inch pieces. Stack on a baking sheet and dry at 200°F overnight.
Store in an air-tight container at room temperature for 3 months or vacuum seal and store for 6 months at room temperature.
Dip into any warm drink when on the go. This snack can also serve as a on-the-go breakfast.
Note: Any rectangular or square pan can be used. The dough should be about 1/2 - 3/4 inch high.