Egg Substitutions
There are many fresh or frozen store-bought egg substitute options, but make sure to read your labels!
Replacing Egg in Breakfast Burritos or Fried Rice
If you want to replace egg in meals such as breakfast burritos or fried rice, you can use tofu (soy) or seitan (wheat)*
*Just don't replace one allergen for another!
Download Recipe
Eggs for Baking
For cookies or bars
Make a "flax egg"
Mix 1 Tbsp of ground flax seeds with 3 Tbsp of water.
For cakes
Make a leavening powder
Mix any acid (like lemon juice) with baking powder. Science!
For other baked goods
Replace 1 egg with:
1/4 cup mashed banana OR 1/4 cup unsweetened apple sauce and 1/2 tsp baking powder.
Download Recipe
Replacing egg whites in meringues, foams or soups
Use aquafaba
2 Tbsps of water from a can of chickpeas is equivalent to one egg white. It can be whipped into a foam!
Download Recipe
Test out these substitutions in some of our favorite recipes!
More Recipes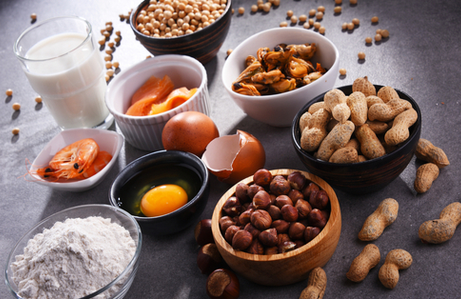 Need substitutions for other ingredients?
Visit our substitutions hub for other common ingredients and their substitution options.