Feasting With FARE: Vegan & Nut-Free Pumpkin Cheesecake Bars
Recipe by Jenna Tso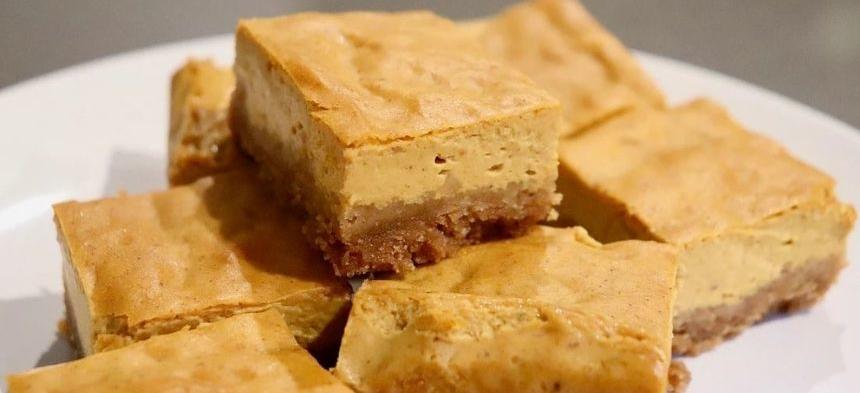 Looking for an easy, delicious dessert to bring to a holiday gathering that just happens to be vegan and nut-free? Look no further!
I'm not going to lie--baking isn't my strong suit. When I am making a dessert, I look for one that is as easy as possible without sacrificing on flavor. Vegan pumpkin cheesecake is one of my favorite desserts and something my mom made for me every holiday season. When I was asked to bring a dessert to a sorority event, I thought it would be fun to make that same cheesecake and cut into bars! In this recipe, I use soy as the base, but if you have an allergy to soy, try using cashews or coconut.
Makes: 16-20 cheesecake bars depending on how wide you cut them
Prep Time: 20 mins
Total Time: At least 4 hours --must be refrigerated for at least 4 hours but I recommend overnight 
Ingredients
16 oz plain vegan cream cheese
10 oz pumpkin pie filling (this is already sweetened so you don't need to add sugar/maple syrup unless you want more sweetness)
1 tsp cinnamon
1 tsp pumpkin pie spice
1 tsp lemon juice
2 tsp cornstarch
2 cups crushed graham crackers 
1 cup melted margarine or vegan butter*
*Click here for substitution options
Instructions 
Line a 9 x 9 baking pan with parchment paper and preheat your oven to 350 F. Take your cream cheese out of the fridge and ensure it is at room temperature 
Crush your graham crackers and place the crumbs into a bowl 
Melt your vegan butter and pour onto the graham cracker crumbs, stirring to make a crust
Press the crust into the parchment-lined baking pan
In a blender, blend your cream cheese, pumpkin pie filling, cinnamon, pumpkin pie spice, cornstarch and lemon juice until combined. Taste to see if you want to add more spices or sweetener like maple syrup
Pour the blended cheesecake mix on top of the graham cracker crust, spreading evenly around the pan
Bake your cheesecake at 350 for 30 minutes. After 30 minutes, turn the oven off and let the cheesecake stay in the warm oven for another 3 minutes
Let the cheesecake cool for an hour on the kitchen counter to prevent cracking
Refrigerate the cheesecake for at least 4 hours, preferably overnight, and cut into bars with a sharp knife when you are ready to eat 
Recipe by Jenna Tso, TSOYUM. For more of her recipes, visit her website.