Feasting With FARE: Cornbread Stuffing
A delectable dish by Chef Leslie Durso that tastes just as good as it looks!
Ingredients
1 8X8 pan of cornbread, cut in ½ inch pieces and dried 
1 firm apple, peeled and chopped  
½ cup fresh cranberries, halved 
¼ cup raisins  
¼ cup chopped onion 
½ cup chopped celery 
6 oz. mushrooms, sliced and sauteed still soft 
Thyme 
Sage  
Parsley 
Marjoram  
1 - 1 ½  cups vegetable broth  
¼ cup olive oil or melted vegan butter* 
Salt  
Pepper 
*Click here for substitution options
Instructions
Preheat oven to 350 degrees  
Combine all the ingredients in a bowl. The mixture should be damp but not wet. Add a little more vegetable broth if still dry. 
Bake in a greased baking dish, covered for about 1 hour. Remove the lid the last ten minutes to brown the top.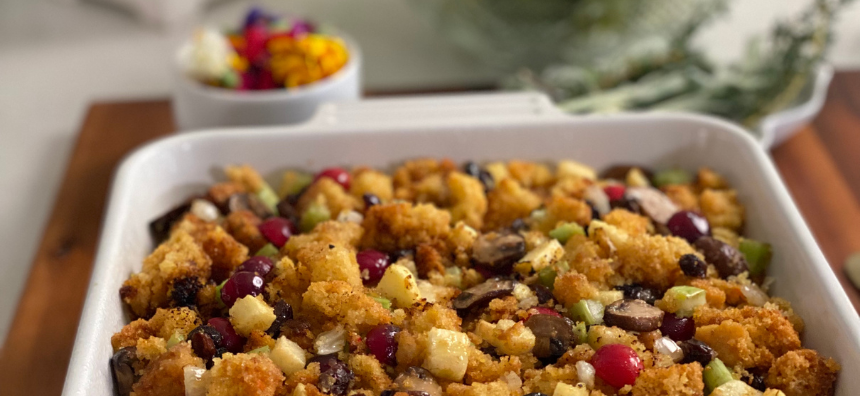 More Side Dishes
This holiday season whip up some of Chef Leslie Durso's recipes for classic and delicious top-9 free side dishes for you and your family to enjoy!
Learn More