Feasting With FARE: Waffles With Peach Topping
Waffles are so much fun and the flavors are endless. You can top 'em, stuff 'em, make sandwiches, s'mores, pizzas, and ice cream sundaes. Use fresh or frozen peaches to make a quick and easy topping for these waffles. What a great way to add some sugar and spice to your day!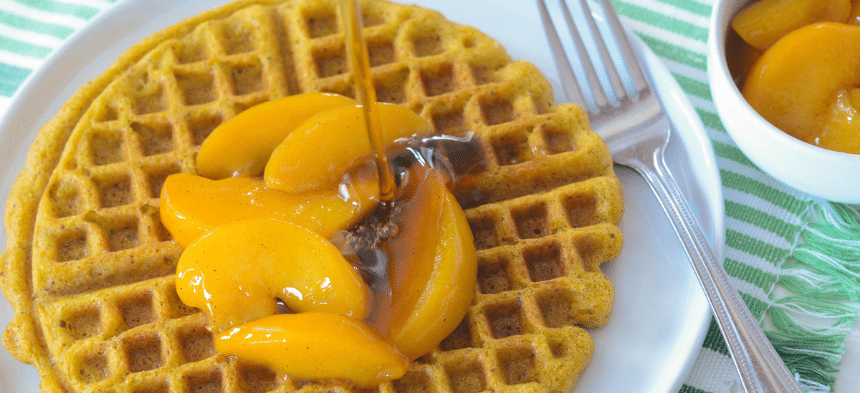 Serves: 6
Ingredients
Peach Topping
1/3 cup granulated sugar
1/4 tsp. ground cinnamon
1/4 cup water
1 tbsp. fresh lemon juice
1-1/2 tsp. cornstarch
1 (12-oz.) package frozen peach slices
Waffles
2 tbsp. ground flaxseed meal
6 tbsp. lukewarm water
2 cups gluten-free all-purpose flour
2 tbsp. granulated sugar
1 tbsp. baking powder
1 tsp. psyllium husk powder
1/2 tsp. ground cinnamon
1/2 tsp. kosher salt
1 cup unsweetened alternative milk, room temperature
1/2 cup pure pumpkin puree
1/2 cup (1 stick) buttery sticks, melted and cooled to room temperature
Instructions 
Peach Topping
Whisk the sugar, cinnamon, water, lemon juice, and cornstarch together in a medium saucepan. Bring to a boil over medium heat, stirring often.
Add the peach slices. Stir to combine. Reduce heat to low and cook for about 4-5 minutes, until heated through and peaches have softened slightly. Remove from heat and set aside.
For the waffles
Preheat waffle iron.
Make flax eggs in a medium bowl by whisking together flaxseed meal and water. Set aside for 5 minutes.
In a medium bowl, whisk together flour, sugar, baking powder, psyllium husk, cinnamon, and salt. If the baking powder contains lumps, sift into flour mixture.
Return to flax eggs and vigorously whisk. To flax eggs add milk, pumpkin puree, and buttery sticks. Whisk to combine.
Fold dry ingredients into wet, whisking gently without over mixing. Batter should be slightly lumpy.
Lightly coat waffle iron with nonstick spray (if manufacturer recommends) or using a paper towel, brush waffle iron grids with oil or melted buttery sticks. Pour batter to cover about 2/3's of the grid surface. The amount depends on your waffle iron. Close lid and cook until waffles are crisp and brown, about 4-5 minutes. Keep warm in oven while cooking remaining waffles.
Serve with peach topping and maple syrup.
To freeze waffles, cool completely and separate each waffle with a piece of parchment paper for easy separation. Wrap well and freeze for up to 2 months. When it's time to enjoy, just pop them in the toaster.
Chefs Tips
1 tbsp. of arrowroot or rice flour can replace 1-1/2 tsp. of cornstarch when making the peach topping.
An egg replacer (such as Ener-G) equivalent to 2 eggs can be substituted for 2 tbsp. flaxseed meal and 6 tbsp. water. Make egg replacer according to package instructions.
For best results, don't open the lid until the waffles are cooked and your waffle maker says it's okay, by way of an indicator light or beeping. If your waffle iron doesn't have an indicator as to when it's done, watch the steam coming out of the unit as the waffle is cooking. When the steam stops, the waffle should be done.
Be sure to read the instruction manual for your waffle iron. Different waffle irons are designed to cook waffles differently. See what your manufacturer says about coating grids with cooking spray. Many of the newer models advise not to use cooking spray.
---
Recipe by Joel & Mary Schaefer, Your Allergy Chefs, and is featured in their new book, At Home With Your Allergy Chefs.