Feasting With FARE: Chocolate Chip Protein Pancakes
The Packers are back with a brand new recipe for allergy-friendly protein pancakes! Check it out and see how you can adapt this breakfast classic to fit all of your food allergy needs and preferences.
Ingredients
1 1/3 cup of Gluten Free Oat Flour (120 grams)
¼ vanilla protein powder (we used OWYN)
4 tsp. baking powder
1 TBSP Golden Ground Flaxseed
¼ tsp. salt
1 tsp. cinnamon
1 ¼ cup of milk of your choice (we used So Delicious Coconut)
1 TBSP apple cider vinegar
1 TBSP pure maple syrup
1 tsp. vanilla extract
½ tsp. maple extract
2-3 TBSP mini chocolate chips
Instructions
Pour the apple cider vinegar into the milk and whisk until frothy. Set aside.
Combine all the dry ingredients and mix to combine.
Add the vanilla and maple extracts and maple syrup to the milk mixture and whisk until combined.
Add all the wet ingredients to the dry and mix. A few lumps are okay.
If batter is too thick, add a little milk to thin it out/more flour if mixture is too thin.
Using a griddle, add 1 TBSP of oil or butter and wipe the oil with a paper towel. You don't want a lot of oil, just enough to make it easy to flip the pancakes.
We used approximately 2 TBSP of batter per pancake (this will yield approximately 18-20 small sand dollar size pancakes).
Make sure you leave enough space between the pancakes on the griddle to flip them.
When they are puffy, with dull/dry edges then it is time to flip.
Stack them on a plate and serve them with syrup, honey, jam, agave-or they are really good plain!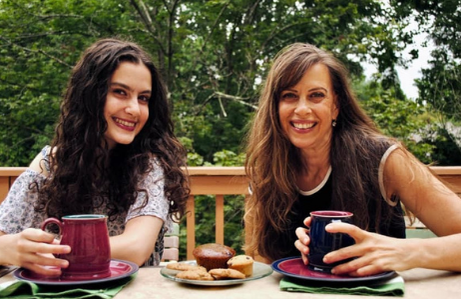 Fridge to Table with the Packers
This mother/daughter duo is here to provide witty banter while cooking up simple recipes that are incredibly tasty, and food allergy-friendly.