Feasting with FARE: Sichuan-Style Eggplant & Peppers Stir Fry
A terrific recipe by Chef Simon Majumdar using one of his favorite vegetables: eggplant!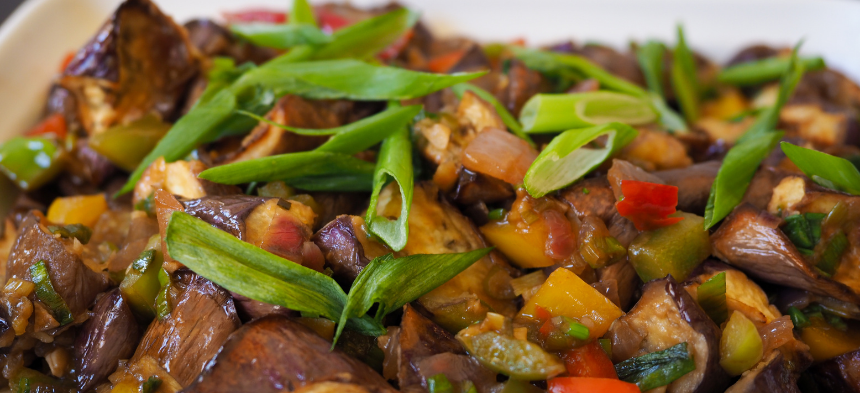 Eggplants, or aubergine as we call them in Britain, are absolutely one of my favorite vegetables – both to cook with and to eat. They are perfect to create a side dish or, as I have done here, to form the basis of a sensational vegetarian meal.
I have been fortunate to try eggplant in many countries around the world. In the Middle East, they are roasted and then covered in a meat sauce rich with olive oil and called, "Imam Bayildi." In India, they are cooked over an open flame, peeled of their charred skins and mixed with spices to make the delectable dish called, "Baingan Bharta." In Greece, they are sliced, fried in the superb olive oil of the region and then used pasta-like to form the layers of "Moussaka." And, of course, in Italy, they combine with another classic, Parmesan cheese, to make the ever-popular dish, "Eggplant Parmigiana."
So many eggplant dishes to choose from. But, if I were forced to pick a favorite, I think I would have to turn to some of the dishes that I sampled during my time in the Sichuan region of China. It is a cuisine that is perhaps best known for its ample use of Sichuan chilis and the famous mouth numbing quality of Sichuan peppercorns – actually not a peppercorn but taken from a local ash tree. In the region, these are used plentifully, but can be a challenge to those who have not sampled them before. So, in this version I have been a little more conservative.
This recipe is my attempt to recapture the flavors from that visit. The combination of the pre-fried eggplant alongside the colorful bell peppers – still with a bite – and the slight numbing of the peppercorns works really well. I make no claims for authenticity, but it definitely comes through in flavor.
Sichuan-Style Eggplant & Peppers Stir Fry
Serves: 2-4
Ingredients
4 Asian Eggplant (If you cannot find Asian Eggplant, traditional style will also work)
2 Tablespoons Rice Flour
½ White Onion (Diced)
1 Inch Fresh Ginger (Minced)
3 Cloves Garlic (Minced)
1 Dry Sichuan Chili (Whole)
3 Thai Chili (Finely Sliced)
3 Sichuan Pepper (Crushed with the back of a spoon)
1 Bunch Green Onion (Separate the white and green parts and slice both very thinly)
½ Red Bell Pepper (Diced)
½ Green Bell Pepper (Diced)
½ Yellow Bell Pepper (Diced)
1 Tablespoon ShaoXing Wine
1 Teaspoon Rice Wine Vinegar
1 Teaspoon Perilla Oil (As a substitute for Sesame Oil)
1 Teaspoon Soy Sauce Or Coconut Amino Acid Or 1 Teaspoon Salt (Depending on allergies)
½ Cup Water
4 Tablespoons Vegetable Oil (For Stir Frying)
Instructions
Cut the eggplant into ½ inch pieces.
Toss the eggplant in the rice flour, and then in 1 tablespoon of the vegetable oil.
You can fry, air fry or bake the eggplant until it is crisp. If you air fry, do so for 8 mins at degrees Fahrenheit. If you deep fry, cook for 3-4 minutes. If you bake, do so for 15 minutes at degrees Fahrenheit.
Once cooked, place to one side.
Add the rest of the vegetable oil to a wok or deep frying pan.
Bring to a medium heat and add the onions.
Cook the onions for 3 minutes.
Add the ginger and garlic, and cook for 2 minutes.
Add the dry Sichuan chili, the Thai chili and the Sichuan pepper, and cook for 1 minute.
Add the white part of the green onions and cook for 2 minutes.
Add the bell peppers and cook for 3 minutes.
Add the water, Shaoxing wine, the rice wine vinegar, the Perilla oil and the soy/coconut amino/salt (depending on allergies), and simmer gently for 3-4 minutes.
Add the eggplant and combine well. The rice flour coating on the eggplant will help thicken the sauce.
Add the green part of the green onion (reserving some for garnish).
Simmer for 1 minute and then serve with steamed rice.
---
Photo Credit: Sybil Villanueva
Disclaimer: This post from Simon Majumdar is for informational purposes only and is neither intended as medical advice, diagnosis, or treatment nor as substitute for the medical advice, diagnosis or treatment of a physician or other qualified health provider. Please consult your physician or other qualified health care provider for medical advice, diagnosis, or treatment.