Feasting With FARE: Gluten-Free Birthday Cake
On this episode of 'In the Kitchen with Dr. Reneé and Chef Alycia', you'll love every layer of this delicious cake...and did we mention that it's allergy-friendly?!
Ingredients
2 2/3 cups of gluten-free all-purpose flour (or regular all-purpose)*
2 cups of sugar
1 tbsp. baking powder
1 tsp. salt
1 cup plain Greek yogurt or dairy free yogurt
1/2 cup olive oil or any allergy-friendly oil you prefer
1 tbsp. vanilla extract or vanilla bean paste
2 large eggs…..allergic to eggs...no problem, you can substitute for  1/2 cup applesauce, flax egg or egg any  replacement of your choice!*
1 cup oat milk or any allergy friendly milk product you prefer*
*Click here for substitution options
Instructions
Mix Flour, sugar, baking powder and salt. Whisk to distribute evenly.
Add yogurt, oil, vanilla, eggs and milk. Mix well.
If using gluten-free flour let the batter sit for 30 minutes before putting in a cake pan. It will give it time for the flour to absorb the liquid and keep it moist. If using regular flour you don't need to do this step.
While the batter is resting preheat the oven to 350 separate into two 8 inch round cake pans. Bake for 30-40 minutes.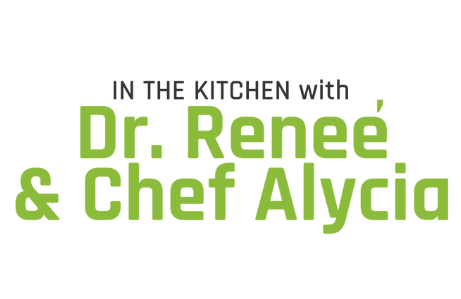 About the Series
Dr. Reneé and Chef Alycia are here to show you that food-allergy-friendly foods can and should be as delicious as they are safe to eat!