Living with Food Allergies
Free Downloadable Resources
FARE has developed a number of free resources to educate and raise awareness about food allergies, including posters and infographics that can be used in schools, restaurants, libraries and other locations.
Food Allergy & Anaphylaxis Emergency Care Plan
FARE's Food Allergy & Anaphylaxis Emergency Care Plan outlines recommended treatment in case of an allergic reaction, is signed by a physician and includes emergency contact information.
This resource is available in English and Spanish.
Learn More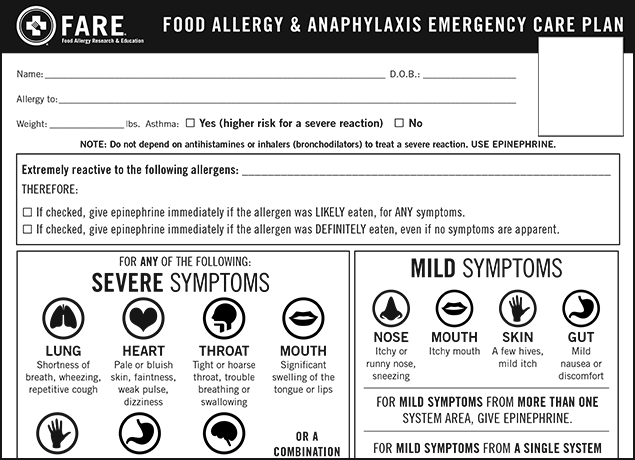 Materiales y Recursos en Español
Frequently Used Resources
Ordering Food Allergy Guides for a medical office? To order a package of 25 copies
Recognizing and Responding to a Reaction Poster
Learning to recognize symptoms and how to react can help save the life of someone with food allergies. If two mild symptoms or just one severe symptom is being experienced, give epinephrine and call 911.
Learn More
Chef Cards
Carrying a "chef card" that outlines the foods you must avoid is a great way to communicate your food allergies to a chef or manager at restaurants.
Learn More
Additional Resources
The Be a PAL® education program can help children learn how to Protect A Life by being a good friend to kids with food allergies.
Make the most of this year's Teal Pumpkin Project by downloading these free resources.
New to Food Allergies: Where to Start
These resources are designed to help newly-diagnosed patients and families begin their journey from diagnosis to living well with food allergies.
Learn More