Living Teal™: At the Table With FARE
Living Teal: At the Table With FARE provides engaging conversation that shares key tips for daily living including a special focus on living with, or caring for someone with, food allergies. Each episode aims to educate and engage the audience, bringing together experts, influencers, personalities and educators to discuss today's most pressing issues.
Check out the Latest Episode
Episode 3: Realities of Relationships And Dating in 2020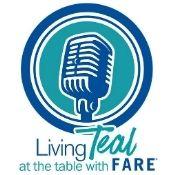 Guests: Comedian Matt Friend, FARE Rising Stars Kendra Chapman and Daniel Kadden
September 10, 2020
Relationships and dating are never easy but throw in a global public health crisis AND food allergies? In this episode, we are joined by comedian Matt Friend and two of FARE's Rising Star leaders to discuss the ins and outs and ups and downs of dating in 2020.