Feating With FARE: Mochi
Join Chef Leslie on a trip to Japan with this delicious Top-9 free recipe for mochi!
Ingredients
1-pint of vegan ice cream, any flavor. I like strawberry, chocolate, and homemade nice cream
1 cup glutinous rice flour
¼ cup sugar
1 cup water
1 cup potato starch or cornstarch
Instructions
Using a teaspoon size scoop, form 12 ice cream balls and refreeze on a parchment lined baking sheet. 
In a glass bowl, whisk together the rice flour, sugar and water. Cover with a silicone cover or plastic wrap. Microwave for 1 minute.
Give the mixture a whisk, recover, and microwave for another minute.
Mix with a rubber spatula, recover, and microwave for another 30 seconds. The dough with be very sticky!
Place a large piece of parchment paper or silicone mat on your counter and generously cover in sifted cornstarch or potato starch.
Scrape the dough onto the starch covered paper and sprinkle more starch on top of the dough and coat your rolling pin.
Roll out the dough to about ¼ inch thick. 
Place in the refrigerator for 30 minutes. 
Cut the dough into circles using a 3 ½ to 4 inch biscuit cutter.
Carefully brush the starch off your dough using a pastry brush.
Place 1 frozen ice cream ball into the center of your dough and fold the sides over to cover fully. Wrap immediately in plastic wrap and place back in the freezer. 
Let thaw a minute or two before enjoying!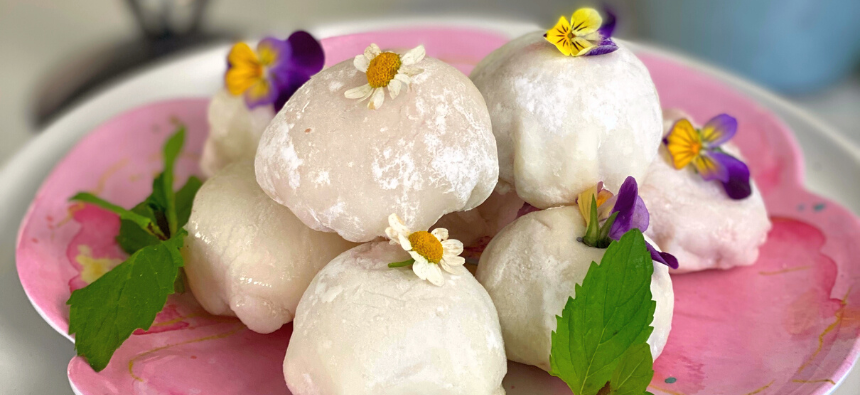 More Around the World in 80 Plates with Leslie Durso
More Recipes