Food Allergy Awareness Week
#TealTakeover
With Food Allergy Awareness Week 2022 just a hop away, #TealTakeover is coming early this year! From May 1 to May 14, FARE is asking you—yes, YOU—to paint your world teal, the color of food allergy awareness. Let's share empathy, education and love as we celebrate our food allergy community!
We're asking you to participate in #TealTakeover!
Sunday, May 1 - Saturday, May 7: Turning Teal Early!
Sunday, May 8 - Saturday, May 14: #TealTakeover during Food Allergy Awareness Week!
To make the world safer for those living with life-threatening food allergies, we need everyone to be aware and to care. It starts with knowing that Teal represents food allergy awareness and action. YOU can help!
But how...?
You can make a difference by ensuring that everyone feels the teal! Dress in teal for two full weeks so friends and neighbors ask, "What's the deal with all that teal?" Host a car wash fundraiser (using teal suds and sponges, of course). Share your favorite Top-9-free recipes on TikTok. Post local landmarks that are lit in teal for food allergy awareness. However you choose to reveal your teal, make sure to use the hashtag #TealTakeover so we know you're out there supporting the food allergy community!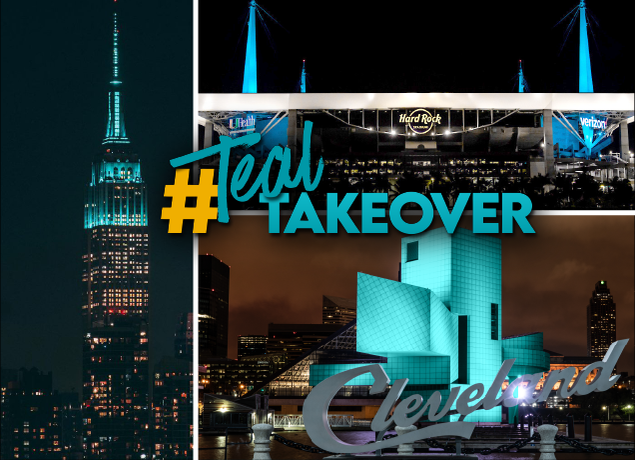 Here are some ways you can hop in to support the cause!

Start an awareness and fundraising campaign! Share your food allergy story with friends and family, then ask them to help you raise funds to combat the disease. You will have a massive impact on our community and could even win awesome prizes, including a cooking demo with a celebrity chef! Click here to learn more and start a fundraiser today.
Share photos of you and your family dressed to the 9s in teal.
Give a gift with twice the impact! Each gift you make in support of Food Allergy Awareness Week will be matched, dollar for dollar, by a caring donor — up to $25,000! Donate by clicking here now.
Host a Top-9-free bake sale, car wash, or walk.
Post photos to social media of your favorite allergy-friendly dishes.
Get a local business to donate a day's or week's profits from a specific item to FARE!
Wear a badge that says "Ask me about my food allergy!" to start a transformative conversation.
Share your food allergy story in a video and tag @foodallergy so we can reshare it.
Become a FARE Advocate to make sure your voice is heard!