FARE Blog
September 30, 2022
FARE Food Allergy Summit 2022: "Stronger Together" at Last
Food allergy advocates and allies gather at three-day conference, FARE's largest in-person event since 2019.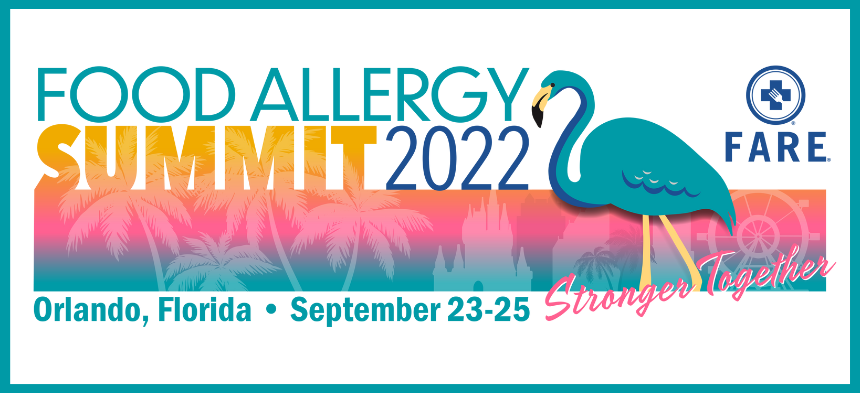 First-time attendees and returning supporters met at the JW Marriott Grande Lakes in Orlando, Fla., September 23-25, to learn, connect, and build community at FARE Food Allergy Summit 2022. Embracing the Summit's Stronger Together theme, 500 participants celebrated the power of collective action, inspiration, and fun. Seventy speakers shared their wisdom and expertise in 50 sessions for teens, adults and general audiences on topics ranging from disease biology, drug development, clinical care, and health disparities to emotional and psychosocial impacts, public policy, and living your best while managing food allergies.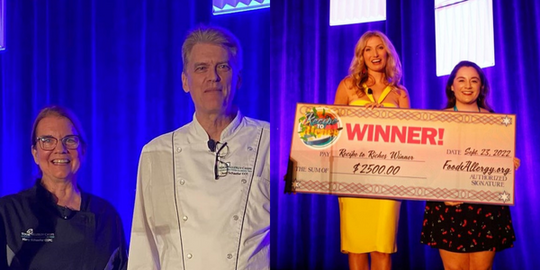 The Summit kicked off on Friday night with Recipes to Riches, a contest to develop a Top-9-Free, shelf-stable snack. The lucky panel of snack judges included Chefs Joel and Mary Schaefer of Your Allergy Chefs, actor Ocean Maturo, University of Miami film student KiAnna Dorsey, and FARE's culinary globetrotter, Chef Leslie Durso. Congratulations to our six finalists, who were invited to present their grab-and-go snacks at the Summit. The top prize winner was Leah Kathmann, whose Allergen Free S'mores Popcorn was described by one judge as "an explosion of flavors in my mouth." Audience members eagerly joined in the taste-testing and voted for Askim Bilgen's Sunflower Seed Cranberry Cookies as their favorite treat. Stay tuned to FARE social media channels and Feasting With FARE, where we'll be rolling out all six delectable snack recipes in the coming weeks.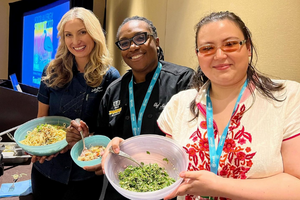 Delicious, allergy-friendly food, prepared and served using best practices to prevent cross-contact, was also the centerpiece of Saturday's FARE-provided lunch created by Chef Joel, who also helped train the staff at restaurants throughout the resort on food safety and assisted the restaurants in developing Top-9-Free options. Exhibitors shared Top-9-free packaged goods ranging from an oatmeal and pancake breakfast, to cookies, candies, and chips, to spreads, "cheeses," and meats. A recipe workshop led by Chef Leslie Durso, Chef Alycia Nicole Matthews, and product developer and entrepreneur Nicole Gordon gave participants one more path to safe, mouth-watering food. Dietitians (RDs/RDNs) were able to receive up to 5.25 continuing education units for participating in 20 accredited sessions.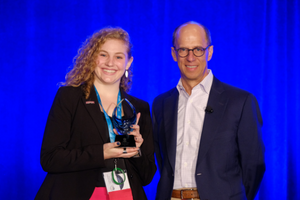 FARE CEO Dr. Sung Poblete welcomed attendees with a message of inclusion and encouragement, punctuated with High School Musical's reminder that "We're All in This Together." During Saturday's lunch, the chair of FARE's Board of Directors, David Jaffe, introduced two new awards honoring remarkable members of the food allergy community who are dedicated to making a difference. Via video, FARE Board of Governors member and Mothers of Children Having Allergies (MoCHA) support group co-founder Denise Bunning presented the first Denise Bunning Community Leadership Award to Kara Gassmann Schneider, a food allergy advocate and fundraiser extraordinaire, and mom to teen advocate Adel Schneider of Team Delly. Together, Kara and Adel have brought food allergy awareness to their hometown of Appleton, Wisc., the neighboring city of Green Bay, and beyond. Receiving the Young Leader Award in person was Elise Buellesbach, a sophomore studying public policy at American University in Washington, D.C., whose internships at FARE included invaluable assistance to our Courage at Congress 2022 legislative advocacy event earlier this year.  
Age-appropriate socials rounded out the evenings, giving adults and teens a change to forge friendships with their peers and relax together. The Miami Dolphins kindly contributed games and equipment to the Teen Lounge and Teen Socials.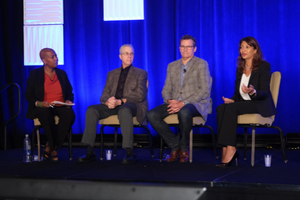 The Summit concluded with Innovations on the Horizon, a panel moderated by leadership coach, media trainer, educator and food allergy advocate Karen Palmer and featuring Dr. Tom Casale, Distinguished Chair of the FARE Clinical Network, Daniel Tassé, Chief Executive Officer of DBV Technologies, and Dr. Ruchi Gupta, Professor of Pediatrics and Medicine at Northwestern University Feinberg School of Medicine and principal investigator of the FARE-supported Start Eating Early Diet (SEED) initiative for food allergy prevention. This exploration of what we might see in the next five to ten years touched on wide-ranging topics, including: 
health disparities in food allergy care and research that impact underserved communities 
the pipeline for new prevention strategies, diagnostics, treatments, and devices for epinephrine administration 
lessons learned from treatment advances for asthma and eczema 
progress in ongoing clinical trials and in developing FARE's collaborative research infrastructure 
opportunities for community members to move the needle on food allergy research and policy by joining clinical trials such as the FARE Patient Registry or by becoming a FARE Advocate 
We thank the sponsors of FARE Food Allergy Summit 2022: Alladapt Immunotherapies, Aimmune Therapeutics, DBV Technologies, The Miami Dolphins, Better Bites Bakery, Hungry Harry's, and Oats in Coats.  
Thanks also to our Food Allergy Summit 2022 exhibitors: Applegate Farms, Ajinomoto Cambrooke, Allergy Scout, Daiya Foods, Every Body Eat, Hungry Harry's, Just Like You Films, Nutricia North America, Oats in Coats, Partake Foods, Pixie Lizzie, Red Sneakers for Oakley, Seedling Programs, Sifter, and YumEarth.
Special thanks to donating exhibitors Better Bites Bakery, Every Body Eat, Hungry Harry's, Oats in Coats, Partake Foods and Voyage Foods.
After being away from each other for so long, many participants shared joyful, tearful goodbyes at the close of Summit 2022. But whether you missed out on this year's Summit or attended and are already missing the camaraderie, there's good news ahead. FARE will be returning to Orlando, October 13-15, for Food Allergy Summit 2023. We can't wait to see you next year!